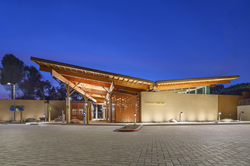 "For LPA, COTE represents the highest honor because it focuses on actual performance," LPA President Dan Heinfeld says. "We've always connected performance and design excellence as one of our core values."
IRVINE, Calif. (PRWEB) May 21, 2020
Irvine-based integrated design firm LPA has received a national COTE Top Ten award from the American Institute of Architects, the industry's highest award for sustainable design, for the design of the Environmental Nature Center and Pre-school on a 5-acre campus in Newport Beach, California, the AIA announced today.
The AIA also awarded the two LEED Platinum, net-zero projects with the COTE Top Ten Plus designation, which recognizes projects that have already demonstrated "exemplary performance and generated post-occupancy lessons." The Environmental Nature Center (ENC) was the only one of the projects honored to receive the Top Ten Plus designation.
The COTE awards recognize 10 innovative projects each year for "integration of design excellence with environmental performance." Projects are evaluated on 10 distinct parameters, ranging from energy strategies and water conservation to resiliency and wellness.
The Environmental Nature Center design "is special in that it is a pre-school that embodies many environmental lessons," the AIA jurors wrote. "It introduces kids to responsible sustainability at a young age and is a place where people will want to send their children."
An early adopter of sustainable design, last year LPA was the largest firm in the country to surpass the AIA 2030 Commitment target of a 70 percent energy use reduction in new buildings. LPA has designed one of the largest portfolios of LEED Platinum and Gold projects in the country.
"For LPA, COTE represents the highest honor because it focuses on actual performance," LPA President Dan Heinfeld says. "We've always connected performance and design excellence as one of our core values."
The 9,000-square-foot LPA-designed Nature Center, opened in 2008 as the first LEED Platinum building in the region, provides environmental education through hands-on experiences with nature. Last September the ENC added a 10,380-square-foot pre-school, designed to deliver nature-based education for children ages 2½ to 5 through a series of intuitive indoor-outdoor play and education environments.
Energy efficiency and water conservation are baked into every element of the facility. The butterfly-shaped roof opens the classrooms to natural light and supports a 32KW array of photovoltaic panels, which are designed to provide 105 percent of the net energy for the pre-school's electrical needs. Natural ventilation, low-energy ceiling fans and a radiant floor heating system eliminated the need for traditional HVAC systems. Rainwater is treated as an educational tool, where water is channeled through rock basins and bioswales, and naturally treated and clarified by plant materials.
"It was extremely important for the design to mirror our sensibilities on sustainability and energy efficiency," said Bo Glover, executive director of the ENC. "Working with LPA gave us a unique opportunity to design a nature-based pre-school from the ground up."
The pre-school was developed through LPA's unique integrated design process which included the firm's architects, landscape architects and interior designers, taking a holistic approach to addressing the educational spaces, as well as energy and water conservation. Learning spaces throughout the facility are designed to spark creativity, cooperative learning and imagination.
"We were able to work as a unit with educators, the community and ENC leaders to develop the idea of learning through nature in a facility that reflected the group's core mission," says LPA Design Director Rick D'Amato.
The pre-school was certified as LEED Platinum in April. The pre-school is also pursuing the Living Building Challenge's Petal Certification, one of the first projects in the region to target both a high-level of sustainability and the healthy environment standard.
About
Founded in 1965, LPA specializes in creating innovative environments that work better, do more with less and improve people's lives. An integrated design firm with six locations in California and Texas, LPA's team includes more than 400 in-house architects, master planners, engineers, interior designers, landscape architects and research analysts, working across a wide array of sectors. For more information, visit lpadesignstudios.com.