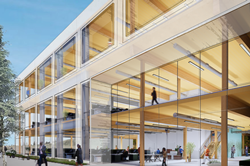 "Mass timber is a really great opportunity for a developer to make a statement when it comes to sustainability," LPA Designer Scott DiCesare says. "There is an opportunity to create a different type of project that stands out in the market."
IRVINE, Calif. (PRWEB) March 25, 2021
A team of LPA architects, engineers and interior designers recently concluded a study examining the performance and cost-effectiveness of using mass timber as the primary construction material in the design of a typical core-and-shell office building.
While mass timber is considered a more sustainable building material than steel or concrete, its perceived strength, cost and uncertainty about codes have limited its use in mass market building types. However, as the price of mass timber products continues to fall and local jurisdictions improve their code approval processes, the wood material may become a more viable choice for building commercial office buildings, says LPA Designer Scott DiCesare.
"Mass timber is a really great opportunity for a developer to make a statement when it comes to sustainability," DiCesare says. "There is an opportunity to create a different type of project that stands out in the market."
To evaluate the opportunities and challenges involved in designing a mass timber office building, the LPA team designed a prototype using cross-laminated timber (CLT) wood panels as the primary building material. An existing three-story, 79,200-square-foot steel building in Irvine, California, served as a model for the prototype.
In redesigning the structure, the designers committed to exposing as much timber as possible, while maintaining a typical five-foot planning module to accommodate multiple tenants. The building also needed to retain an open-office floor plan and provide built-in flexibility to meet the demands of today's commercial office spaces.
Early in the design process, structural engineers concluded that the typical 30-foot-by-30-foot grid used for steel structures wasn't feasible for mass timber because the girders required to support the weight of the building would be too deep to maintain the 15-foot floor-to-floor height.
"Because deep penetrations of the mass timber can affect the structural integrity, framing layouts need to be changed and mechanical systems reconsidered," said LPA Structural Engineering Designer A.J. Tezveren-Johnson. "You really need a coordinated effort between the different disciplines to optimize the overall structural layout."
To address the acoustical challenges of a wood-based structure, the team engaged an acoustical engineer who assisted with the design of a floor assembly to mitigate noise in the interior environment.
A life-cycle analysis of both structures helped quantify the benefits of the mass timber design, including a 40 percent decrease in carbon dioxide emissions compared to the traditional building. The results were based on a code-compliant hybrid structure; a full mass timber build would likely achieve greater decreases in carbon emissions and sequestration, DiCesare says.
Additional analysis revealed that the optimized grid spacing with maximized panel spans would also reduce overall construction costs. While CLT added about $10 a square foot compared to a typical steel-and-concrete structure, those material costs are largely offset by the lower cost of finishes and the expedited construction process.
The project recently earned special recognition from the AIA Orange County in the Inspire Category. Jurors noted "the amazing long-term sustainable aspects to this construction system and were impressed by the amount of effort to research and analyze the structural, mechanical and aesthetic benefits."
The full report can be found here: https://lpadesignstudios.com/catalyst/an-office-made-of-wood
About
Founded in 1965, LPA specializes in creating innovative environments that work better, do more with less and improve people's lives. An integrated design firm with six locations in California and Texas, LPA's team includes more than 400 in-house architects, master planners, engineers, interior designers, landscape architects and research analysts, working across a wide array of sectors. For more information, visit lpadesignstudios.com.