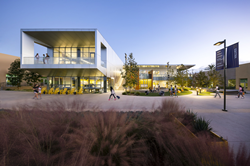 "The success of the school is powerful evidence of the way an integrateddesign approach can improve the educational experience for all students," said LPA CEO Wendy Rogers.
IRVINE, Calif. (PRWEB) October 30, 2020
Integrated design firm LPA has received an Award of Excellence from the American Institute of Architects' Educational Facility Design Awards – the industry's highest honor for exemplary educational design – for the expansion of the Tarbut V'Torah Community Day School, a private K-12 school in Irvine, California, focused on a student-centric curriculum.
Sponsored by the AIA's Committee on Architecture for Education (CAE), the Education Facility Design Awards recognize projects that "represent state-of-the-art learning environments." The awards cover K-12 and higher education, focusing on innovation and "how architects are creating cutting edge spaces that enhance modern pedagogy." Only 11 projects were honored this year.
"This is a great tribute to the hard work and collaborative energy of everybody involved with our long relationship with TVT," said LPA CEO Wendy Rogers. "The success of the school is powerful evidence of the way an integrated design approach can improve the educational experience for all students and create opportunities for learning to happen everywhere."
The campus expansion was a part of a new strategic plan developed by the school's trustees to grow the student body and re-establish Tarbut V'Torah as a premier independent school. LPA worked closely with the school's administration and community to co-develop a program that responds to the school's vision of future-ready learning environments.
"When threatened with closure, they re-thought community and education to set the stage for their future," jurors said. "The result is a vibrant, inclusive and thriving school!"
The expansion of the campus included the addition of three new buildings — a maker building, a STEAM building, and a fitness building, in addition to outdoor learning environments. LPA's engineers, designers and landscape architects worked with school leaders and students to develop spaces that address the social and emotional aspects of students, as well as the academic.
The school's flexible learning environments allow for hands-on, project-based learning, indoors and out. Classrooms with glass walls open to the expansive views of the scenic Southern California community. A quad adjacent to the new buildings includes small group pods, an amphitheater and stage, evening performance lighting, a lunch terrace, an 18-foot-long concrete work bench table and a roof top huddle deck.
"Tarbut V'Torah's expansion provides learning environments that inspire, encourage and support the whole student," said LPA Project Designer Ozzie Tapia. "The design reflects the talents of our different disciplines working together and challenging ourselves to innovate to create a high performance, sustainable and resilient design."
This is second national honor for LPA this year. In May, the firm earned an AIA COTE Top Ten Plus honor, the industry's top award for sustainable design, for the Environmental Nature Center and Preschool in Newport Beach, California.
About
Founded in 1965, LPA specializes in creating innovative environments that work better, do more with less and improve people's lives. An integrated design firm with six locations in California and Texas, LPA's team includes more than 400 in-house architects, master planners, engineers, interior designers, landscape architects and research analysts, working across a wide array of sectors. For more information, visit lpadesignstudios.com.