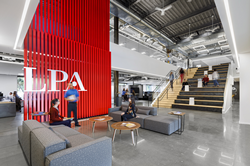 "Our Irvine studio exemplifies our core values. This Sustainable Innovation Honor Award reflects the collaborative efforts of all disciplines in our integrated design firm." -LPA President Dan Heinfeld
IRVINE, Calif. (PRWEB) December 12, 2019
The U.S. Green Building Council's Los Angeles chapter presented LPA Design Studios with a Sustainable Innovation Honor Award in the Health and Wellness Category on Dec. 11 for the design of the company's new corporate headquarters, a model for modern, healthy, collaborative workplace design.
The Sustainable Innovation Awards "evaluate merit based upon sustainable strategies that demonstrate exemplary performance by going above and beyond LEED credit achievement." In addition to meeting the LEED-CI v4 Platinum certification standards, the Irvine studio surpasses the AIA 2030 Commitment target of a 70 percent reduction in fossil fuel energy use.
"Our Irvine studio exemplifies our core values," LPA President Dan Heinfeld said. "This Sustainable Innovation Honor Award reflects the collaborative efforts of all disciplines in our integrated design firm."
The project transformed a typical shell office space into green, healthy and collaborative work environment. Space planning, finishes, furnishings lighting systems, acoustics, and HVAC design were all coordinated by a collaborative design team to promote and optimize health and wellness.
Promoting occupant health, wellness and balance was a guiding principal for the project. The location of the office was selected for its proximity to a variety of wellness amenities available at the site, including an on-site fitness center, an on-site café, extensive outdoor gathering and recreation spaces, as well as an adjacent nature preserve.
More than 300 open workstations allow customization for each employee to optimize ergonomics, user control, and comfort. Each workstation includes an ergonomically adjustable sit/stand desk along with adjustable monitor arms and fully adjustable seating. The workstations are arranged in rows perpendicular to floor-to-ceiling windows, with each row no longer than three desks to ensure every employee benefits from natural light.
Input cultivated through an extensive survey and research process informed the design of the creative space, with the help of LPAred, LPA's in-house research team. The location for the kitchen, for example, was moved to a partially-enclosed side room after the staff resisted the idea of an open kitchen near the center of the office. The space offers a variety of collaboration zones, respite areas and conference rooms spread throughout the studio.
The firm also manages a multi-faceted wellness program called "Balance," which includes bi-weekly exercise classes and annual flu shots, as well as training on nutrition, personal finance and managing stress --- all provided to staff at no charge.
"We worked with all the disciplines within the firm to find ways to create balance and a healthier work environment," LPA Director of Engineering Erik Ring said. "It is the same approach we use on all our projects."
The U.S. Green Building Council, established in 1993, administers the LEED program, which has become an international standard for environmentally sound buildings. LPA has designed one of the largest portfolios of LEED-certified projects in the country, including several landmark projects, such as the first LEED for New Construction building and NASA's first LEED Gold building, the Jet Propulsion Laboratory in Pasadena, California.
Read more about the process behind the office design: LPA Moves Into 'Living Laboratory' for Workplace Design.
About
Founded in 1965, LPA specializes in creating innovative environments that work better, do more with less and improve people's lives. An integrated design firm with six locations in California and Texas, LPA's team includes more than 400 in-house architects, master planners, engineers, interior designers, landscape architects and research analysts, working across a wide array of sectors. For more information, visit lpadesignstudios.com.