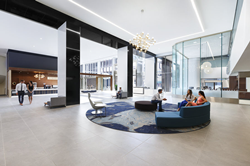 LPA's talented lighting designers play a key role in our integrated design process.
IRVINE, Calif. (PRWEB) June 27, 2019
Lighting designers from integrated design firm LPA recently earned two national awards from the Illuminating Energy Society (IES), which honored the designers for creating both engaging and energy efficient lighting systems.
The lighting for the repositioning of the lobby area of 701B Street, an office tower in San Diego, California earned an IES Illumination Award of Merit in the Energy and Environment category. LPA's lighting for Spectrum IV, the regional headquarters for a biotechnology company in San Diego, was honored with an Award of Merit in the Exterior Lighting category.
In addition to these two national awards, LPA's lighting team was also honored with an Award of Merit from the Orange County section of the IES, for the exterior lighting of the new STEAM building on the campus of Tarbut V'Torah Community Day School.
"LPA's talented lighting designers play a key role in our integrated design process," says LPA Chief Executive Officer Wendy Rogers. "Not only does their work directly affect energy efficiency, it significantly impacts the quality of the experience for people using the space."
The 701B repositioning, which was named Office Project of the Year by the San Diego Business Journal earlier this year, uses lighting as a key element to enhance and revitalize the entire building entry experience, while effectively re-enforcing the architectural and interior rebranding vision.
The lighting design for Spectrum IV includes a dynamically up-lit perimeter building canopy, which draws people through the grounds, toward the main entry, supporting the project's central theme of scientific discovery. Lighting is woven into the landscaping, subtly highlighting circulation and gathering spaces along the way, while remaining sensitive to maintaining dark skies over the neighboring canyon.
"All of these designs reflect extensive collaboration with the client, as well as between the various in-house disciplines here at LPA," says Debra Fox, LPA's Director of Lighting services. "These projects are successful, not only because they focus on the client's vision, but also on how people use the spaces."
IES award entries were reviewed and judged by a jury of peers from a broad professional spectrum, "representing diverse skills and depth of lighting design knowledge and application expertise."
About LPA
Founded in 1965, LPA specializes in creating innovative environments that work better, do more with less and improve people's lives. An integrated design firm with six locations in California and Texas, LPA's team includes more than 430 in-house architects, master planners, engineers, interior designers, landscape architects and research analysts, working across a wide array of sectors. For more information, visit lpadesignstudios.com.