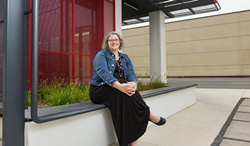 We can influence things that can make people's everyday lives better...
SAN ANTONIO (PRWEB) July 09, 2019
Integrated design firm LPA has promoted veteran Texas architect Sara Flowers to studio director in San Antonio, where she will direct the studio's growth in education and civic developments.
Flowers, who is both an architect and interior designer, has worked in the San Antonio office for 17 years, focusing on creating more sustainable, efficient and affordable projects. Her design skills and leadership have played a key role on a variety of notable projects, including several campuses for the Alamo Heights Independent School District, the KSAT 12 news headquarters and the local headquarters for Joeris General Contractors.
"Sara has been our rock of Gibraltar through the years," says San Antonio Principal Mark Oppelt. "She has grown into an incredible leader for our office."
The firm has also elevated architects Federico Cavazos and Jim Oppelt to Associates, recognizing their growing influence on San Antonio design. Both have been deeply involved in several of the studio's largest recent projects, such as the redesign of Lanier High School for San Antonio Independent School District and Menchaca Elementary School for Austin Independent School District.
"Federico and Jim bring a great spirit of collaboration to every project," says LPA Principal Mickey Conrad.
LPA focuses on an integrated approach to design, bringing multi-disciplined teams to projects including engineers, landscape architects and interior designers, with an emphasis on sustainable, energy efficient designs. LPA's new San Antonio's office, a redesign of an abandoned Southtown retail space, was recently certified as LEED Platinum. The office was also recognized as the 2019 Best Green Project by the San Antonio Business Journal.
Although LPA is best known for its industry-leading work on K-12 campuses, including the East Central High School Performing Arts Center and the new Pleasanton Elementary School, the firm has been growing into different sectors. Current projects include Twelve26Townhomes, a new 20-unit housing development; renovations to Elliott Hall dormitories into classrooms and offices for Texas State University; a new headquarters for Meals on Wheels; and a new senior care facility in San Antonio for Bienvivir, the El Paso-based community-based healthcare program.
Flowers grew up in the small West Texas town of Monahans and earned a Masters degree from Texas Tech University. She first joined O'Neill Conrad Oppelt Architects, the predecessor to LPA in San Antonio, as an intern in 2002.
"I love working with people, figuring out what problems we can help them solve with their spaces," Flowers says. "We can influence things that can make people's everyday lives better and that's what excites me about architecture."
About LPA
Founded in 1965, LPA specializes in creating innovative environments that work better, do more with less and improve people's lives. An integrated design firm with six locations in California and Texas, LPA's team includes more than 430 in-house architects, master planners, engineers, interior designers, landscape architects and research analysts, working across a wide array of sectors. For more information, visit lpadesignstudios.com.