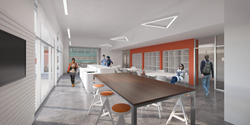 As I've gotten to know the people and principles of LPA, I've only become more energized about the ways we will support the growing Dallas community through their education spaces.
Dallas, TX (PRWEB) April 27, 2017
With nearly 40 years of educational design experience, LPA Inc. opens its new Dallas office. This is the firm's sixth office nationwide and second in Texas. Located at 1920 McKinney Avenue, the office is led by educational facilities architect, Craig Drone. Drone, who draws on nearly 30 years of design experience, joins LPA as principal and regional studio director. He is responsible for developing the company's presence in Dallas, sharing the benefits of LPA's integrated design approach and pursuing opportunities with local clients.
"Craig Drone is unmatched in his passion for the education of Dallas' students," said Mark Oppelt, Principal of LPA San Antonio. "His expertise aligns with our passion to create innovative learning environments that inspire the next generation of learners."
A philosophy of service
Drone has worked with many notable school districts across Texas designing project-based learning environments. He recently completed renovations and additions to Greenville High School in Greenville, Texas, with an arena designed for robotics competitions in their Career Tech Education (CTE) programming, and Burleson ISD, which included several phases of exploration for energy efficiency best practices through elementary school re-site projects.
"It's not about my vision as the architect," Drone explained about his approach to design. "It's about creating 21st century schools that support the vision of district staff, teachers and students."
Opportunity for energy savings
Texas leads the nation in energy consumption and is the fifth largest energy consumer in the world. Effective November 2016, new construction of K-12 schools must meet the mandatory Texas Building Energy Code.
According to the Energy and Sustainability Department of the Dallas Independent School District (ISD), electricity costs are one of the largest expenses for the district. With a history of sustainable design practices, LPA is committed to maximizing energy efficiency without compromising program space or quality of the learning environment.
Schools where students thrive
The Texas population totals approximately 27.9 million—with Dallas ISD ranking the second-largest public school district in the state. With an influx of families to the region, the need for new and improved school facilities is paramount.
Studies show that students with strong arts education earn higher grade point averages and score higher on the SAT than students without arts education. Due to the significant impact of arts education on brain development, schools in the Dallas area are prioritizing the programming of creative spaces to maximize student success.
From STEM laboratories to performing arts centers, LPA provides educational design with a student-centered approach. The firm is currently working with a school in Tyler, Texas to develop 21st century skills and foster an appreciation of the arts for students. The project's first phase includes an expansion with a makerspace and digital media labs on the first floor, with learning studios and science labs on the upper floor. Plans include an athletic facility and future additions for a new performance space.
"As I've gotten to know the people and principles of LPA," Drone expressed, "I've only become more energized about the ways we will support the growing Dallas community through their education spaces."
About LPA
Founded in 1965, LPA has more than 350 employees with offices in San Antonio and Dallas, Texas, and four offices in California. The firm provides services in architecture, interior design, landscape architecture, engineering and graphics. With a proven commitment to sustainable design, LPA designs facilities that span from K-12 schools, colleges and universities to corporate, health care and civic establishments. More than 700 major design awards attest to the firm's commitment to design excellence. For more information, visit http://www.lpainc.com.
###