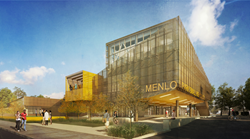 The design of the school reflects the innovative and collaborative spirit of the district and is outwardly focused to invite community and industry partnerships to drive the technology-based education.
Menlo Park, CA (PRWEB) May 18, 2017
Menlo Park Small High School celebrated the ground breaking for the TIDE Academy, which stands for technology, innovation, design and engineering, designed by LPA Inc. Ensuring all students have access to high-quality learning opportunities, the TIDE Academy is designed to include classrooms, STEM labs and varied flexible learning spaces and is expected to be complete in 2019.
Located a quarter mile from the south end of the San Francisco Bay, the 45,000-square-foot public high school implements a project-based learning curriculum with a focus on college and career readiness in STEM fields.
"The design of the school reflects the innovative and collaborative spirit of the district and is outwardly focused to invite community and industry partnerships to drive the technology-based education," said Katia McClain, Associate and Managing Director at LPA. "We designed a flexible, functional, multiuse space in both the interior and exterior including learning clusters as an innovative approach to scale learning for multiple preferences."
The learning spaces will be stacked on three floors wrapped around a "vertical courtyard" for maximum indoor/outdoor connection at every level. In addition to classroom spaces, the campus features a makerspace shop, a coding lab dedicated to computer code education and software development and a design lab for rapid prototyping and implementing design concepts. Reflecting its progressive curriculum, the school is designed to be both innovative and responsive to enhance hands-on learning.
According to the U.S. Department of Commerce, STEM occupations are growing at 17 percent, while other occupations are growing at 9.8 percent. As the demand for technology is expanding into every aspect of life, students at the TIDE Academy will benefit from their new learning environment and develop their capabilities in STEM education.
Matching the innovative curriculum approach to learning, LPA applied an equally creative integrated design approach to maximize the school's sustainability. The building is organized to promote daylighting, as well as views of the bay. A large, perforated metal scrim shades the building, protecting it from direct glare and reducing solar heat gains. Other sustainable initiatives include: a planted green roof, resiliency and active design strategies, high-efficiency HVAC systems and native, drought-tolerant landscaping.
Already an award-winning campus, the TIDE Academy has received design awards from the Coalition for Adequate School Housing (CASH) and from the American Institute of Architects (AIA) Santa Clara Valley Chapter.
"To create a seamless use of the school by both students and staff, collaboration is woven into the fabric of the design," explained Helen Pierce, Design Director at LPA. "Our strategy is to allow the students to become innovators by providing space that supports the flexibility to change modalities and empower students."
Sequoia Union High School District (SUHSD) has a strong initiative to deliver innovative and engaging student environments. "[We are] very excited to build such a dynamic school building that breaks the mold of 960 square foot boxes once and for all and where collaboration is truest 'built in'," said Matthew Zito, Chief Facilities Officer for SUHSD. "The building is also a singularly beautiful piece of architecture and will serve as a great physical place to attend high school for the next 100 years."
About LPA Inc.
Founded in 1965, LPA has more than 350 employees with offices in Irvine, Sacramento, San Diego and San Jose, California as well as San Antonio and Dallas. The firm provides services in architecture, sustainability, planning, interior design, landscape architecture, engineering and graphics. With a proven commitment to integrated sustainable design, LPA designs facilities that span from K-12 schools, colleges and universities and corporate, healthcare and civic establishments. More than 700 major design awards attest to LPA's commitment to design excellence. For more information, visit http://www.lpainc.com.