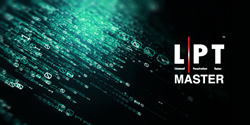 The LPT (Master) exam simulates a real world environment and requires candidates to correctly identify any security threats and weaknesses against social, physical, network and application attacks.
ALBUQUERQUE, N.M. (PRWEB) October 23, 2017
The world's first 18 hour, 3 stage, hands-on, live proctored exam was formally launched at Hacker Halted to test ethical hackers. Ethical hackers will have to pass a grueling new cyber security exam before being called Licensed Penetration Testers.
EC-Council President, Jay Bavisi, unveiled his company's latest certification program at Hacker Halted, one of the largest ethical hacking conferences of the year. The Licensed Penetration Tester (Master) certification is a part of EC-Council's continuous effort to align the skills of penetration testers to the methods of an advanced attacker. The hands-on exam that students must pass to earn the certification offers a challenging environment previously unseen in the market. The exam simulates the complex network of a multinational organization and requires students to test its security before writing a full report.
The LPT (Master) exam challenges the candidates to successfully exploit web application, network, and OS-level vulnerabilities, gain administrative access, think unconventionally, and provide proof of exploitation to prove their skills as expert-level penetration testers. The exam is a true test of a candidate's ability to perform at the level of expert penetration testers putting to use the methodologies practiced by industry leaders. The online, fully proctored exam will provide penetration testing professionals the opportunity to validate their skills in a secure, credible environment.
According to Jay Bavisi, "With the recent Equifax incident and the multitude of other data security breaches in recent years, the need for skilled, vetted penetration testers has increased for the world's organizations. The LPT (Master) exam simulates a real world environment and requires candidates to correctly identify any security threats and weaknesses against social, physical, network and application attacks."
Bavisi's talk at Hacker Halted, where he launched the new exam, touched on the knowledge, skills, and abilities that must inform the penetration tester's practice. The LPT (Master) practical exam is the capstone to EC-Council's certification track and brings together the knowledge and skills taught in other EC-Council programs. The Certified Ethical Hacker Program (CEH) program teaches students the fundamental knowledge they need. The EC-Council Certified Security Analyst (ECSA) Program requires that candidates demonstrate the skills based on the penetration testing framework methodology and the LPT (Master) exam certifies that an individual has the skill before being a Licensed Penetration Tester.
To successfully pass the LPT (Master), candidates are given 18 hours to demonstrate an advanced understanding of testing modern infrastructures. The exam is broken into three levels and each level amounts to six hours of methodical thinking to overcome three strategically planned challenges. After the completion of each level, a thorough report must be submitted to test professionalism, a skill that every organization requires. Candidates must complete the first level to progress to the next level, while a minimum of five challenges out of nine must be completed to become an LPT (Master). Level 1 focuses on Web Application Exploitation, level 2 on Network Level Exploitations, and level 3 is composed of OS Level Exploitations.
Visit https://www.LPTMaster.com for more details.
About EC-Council 
EC-Council has been the world's leading information security certification body since the launch of their flagship program, Certified Ethical Hacker (CEH), which created the ethical hacking industry in 2002. Since the launch of CEH, EC-Council has added industry-leading programs to their portfolio to cover all aspects of information security including EC-Council Certified Security Analyst (ECSA), Computer Hacking Forensics Investigator (CHFI), Certified Chief Information Security Officer (CCISO), among others. EC-Council Foundation, the non-profit branch of EC-Council, created Global CyberLympics, the world's first global hacking competition. EC-Council Foundation also hosts a suite of conferences across the US and around the world including Hacker Halted, Global CISO Forum, TakeDownCon, and CISO Summit.
For more information about EC-Council, please see http://www.eccouncil.org.