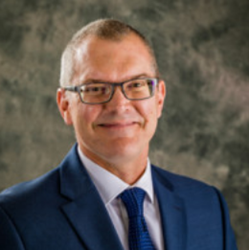 DUBLIN, Ohio (PRWEB) April 01, 2021
LSP Technologies today announced that its current President and CEO, Dr. Jeff Dulaney, has named Eric Collet as the next President of the Company. Dr. Dulaney will continue his role as Chief Executive Officer and Director of LSP Technologies for the foreseeable future. Mr. Collet will continue his role as the Chief Operating Officer along with his new duties as President.
Mr. Collet joined LSP Technologies in 2016 and his leadership and operational expertise were crucial to the Company's rapid growth in recent years attributable to introducing the world's only commercially available turnkey laser peening systems and its robust laser peening services.
"Eric was successful in driving continuous improvement in operations more so than anyone in the history of LSP Technologies. He promoted our distinctive Humble, Hungry, and Smart culture throughout the company and epitomized my expectations for a cultural leader," said Dr. Dulaney.
Mr. Collet responded by stating, "I appreciate the opportunity to lead this highly innovative business that Dr. Dulaney founded 26 years ago, and I recognize the confidence that he is placing in me and my team to continue building upon the growth that we have experienced in recent years. We are making a disruptive technology much more accessible and have a very capable team in place to realize our vision to proliferate laser peening technology throughout the world."
About LSP Technologies (LSPT)
LSP Technologies is the trusted leader in laser peening for metal forming and fatigue mitigation for customers around the world. In addition to a robust laser peening services business, LSPT provides laser peening equipment and custom-engineered laser peening solutions. Please visit lsptechnologies.com for the latest news and information about LSPT.