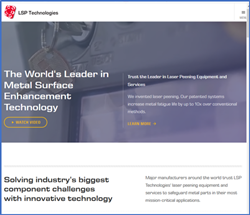 "The new LSPTechnologies.com reflects our accelerating growth and rapid innovation based on our foundational laser peening technology." -- President and CEO Jeff Dulaney
DUBLIN, Ohio (PRWEB) October 18, 2019
LSP Technologies, the global leader in laser peening technology, services and equipment, has launched a completely redesigned website at https://LSPTechnologies.com.
The new website boasts significant new features, including:

Responsive, mobile-first design – with pages now easier to view regardless of browser or device, including PCs, tablets, and mobile phones.
Helpful customer journeys for industries like aerospace, automotive, heavy equipment, and power generation, including case studies, research, and illustrated industrial applications.
Our Story, a section introducing the company's highly skilled engineering/project team and how its humble, hungry, and smart culture has set a standard of teamwork and customer service.
In-depth discussion of how the company's Laser Peening technology can deter a wide range of metal fatigue issues, preventing costly part failure and easing long-term maintenance costs.
A spotlight on the company's Procudo® Laser Peening System product line, peening services, and a new generation of custom laser peening solutions for factories and maintenance operations.
"We are excited to invite you to visit our new website to see our products and services. We believe there is a wide interest in our story of technology innovation, and customer satisfaction," said LSP Technologies President and CEO Jeff Dulaney, who founded the company in 1995. "The new LSPTechnologies.com reflects our accelerating growth and rapid innovation based on our foundational laser peening technology," Dulaney said.
Our new website came together with the skillful guidance and creativity of Adept Marketing of Columbus. They listened to our requirements and needs for our new website The company recently moved to a new global headquarters in Dublin, tripling the size of its physical plant to accommodate new projects and staff.
Adept Marketing redesigned the website to better communicate the products and services we offer and help customers quickly find the information they need. "LSPTechnologies.com communicates the company's key differentiators, and we embraced the challenge of capturing their story – by supporting their customers' journey – in a unique experience," said Nancy Cloutier, Adept Executive Vice President of Client Experience.
LSP Technologies is the world's premier laser peening services, technology, and equipment provider. It is the only company in the world integrating state-of-the-art laser peening systems into manufacturing, maintenance, and research facilities.