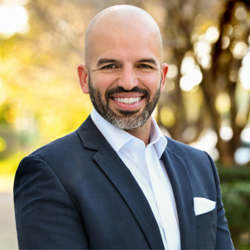 I chose to partner with Side because it supports the creation of my own unique brand
KEY BISCAYNE, Fla. (PRWEB) May 13, 2021
Vantage Luxury Real Estate today announced its partnership with Side, the only real estate technology company that exclusively partners with high-performing agents, teams, and independent brokerages to transform them into market-leading boutique brands and businesses. The alliance will ensure that Vantage Luxury Real Estate, which offers highly specialized luxury market expertise, is powered by the industry's most advanced platform.
Vantage Luxury Real Estate was founded by Lucas Boccheciampe, who has made the dream of upscale living a reality for hundreds of clients in the Miami area since 2013. His diverse background in industrial engineering, construction management, and financial services, combined with his tech-savvy approach and deep understanding of the market, has made him South Florida's go-to agent for high-end properties. With Vantage Luxury Real Estate, Boccheciampe has assembled an elite, dedicated team whose local expertise, unmatched customer service, and true passion for the island lifestyle ensure buyers and sellers achieve their visions.
Partnering with Side will ensure Vantage Luxury Real Estate remains at the cutting edge of the evolving real estate market while allowing its agents to continue delivering premium services to their clients. Vantage Luxury Real Estate agents are fully supported by a one-of-a-kind premium brokerage platform, which provides transaction management, property marketing, lead generation, business growth opportunities, vendor management, and infrastructure solutions.
"I chose to partner with Side because it supports the creation of my own unique brand," said Boccheciampe. "By offering my team access to state-of-the-art marketing, technology, administrative, and legal services, Side allows me to prioritize my focus on my clients, providing them the best possible service and real estate experiences."
Side is led by experienced industry professionals and world-class engineers who develop technology designed to improve agent productivity and enhance the client experience. Based on its belief that homeownership is a fundamental human right, Side is on a mission to improve the public good by providing top-performing real estate agents, teams, and indie brokerages with the best system, support, service, experience, and results.
About Vantage Luxury Real Estate
Vantage Luxury Real Estate is dedicated to helping high-net-worth buyers and sellers realize their real estate goals. Inspired by their passion for South Florida living, the experienced Vantage Luxury Real Estate team provides clients with unparalleled advice and local market expertise while ensuring a fun and exciting process. Vantage Luxury Real Estate serves South Florida specializing in Key Biscayne, Coconut Grove, Miami Beach, and Brickell. To learn more, visit http://www.vantageluxuryre.com.
About Side
Side transforms high-performing agents, teams, and independent brokerages into successful businesses and boutique brands that are 100% agent-owned. Side exclusively partners with the best agents, empowering them with proprietary technology and a premier support team so they can be more productive, grow their business, and focus on serving their clients. Side is headquartered in San Francisco. For more information, visit http://www.sideinc.com.