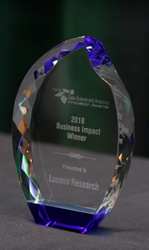 ATLANTA (PRWEB) November 14, 2018
Lucena Research, a leader in predictive analytics and machine learning for the financial industry, announced that it received the Technology Association of Georgia's Innovation Award for Business Impact. The award was presented to Lucena's CEO Erez Katz on Tuesday Nov 6th, 2018 at the TAG Data Science and Analytics Innovation Awards Ceremony.
Katz expressed his appreciation for the recognition of Lucena's efforts in data science and machine learning research by an esteemed committee of big data scientists and technology leaders. "We are honored to receive the Business Impact award in such a prestigious category," Katz said. Finalists for the Innovation Award included State Farm, SunTrust, Mobilewalla, Baker Street Scientific, and Orca AI. Mobilewalla took home the evening's Technical Innovation award.
"When we founded Lucena several years ago, we recognized the impact machine learning could have on the financial industry. As a disruptor to traditional financial markets, we didn't fully realize the extent of the uphill battle we would be facing as a start-up back in 2014. Luckily, with the rise of alternative data and machine learning, the market has grown to recognize our value. Portfolio managers can now sift through a myriad of vetted and validated data sources and elect to consume only what is most meaningful to their investment style and risk appetite," Katz said.
The TAG Data Science & Analytics Innovation Awards connect thought leaders, practitioners, and professionals from across Georgia to celebrate innovation in data science, AI, and advanced data analytics. The program recognizes a diverse set of Georgia-based organizations for their innovation and application of data science, predictive/prescriptive analytics, AI/ML, advanced data engineering, and more.
"Our team's dedication, out-of-the-box thinking, and determination to effectively put the combination of academia, science, and finance successfully into practice is what has fueled our growth and uniquely positioned us into the future," Katz added.
About The Technology Association of Georgia (TAG)
TAG is the leading technology industry association in the state, serving more than 35,000 members through regional chapters in Metro Atlanta, Athens, Augusta, Columbus, Macon/Middle Georgia, and Savannah. TAG's mission is to educate, promote, and unite Georgia's technology community to foster an innovative and connected marketplace that stimulates and enhances a tech-based economy.
The association provides networking and educational programs; celebrates Georgia's technology leaders and companies; and advocates for legislative action that enhances the state's economic climate for technology. TAG hosts over 200 events each year and serves as an umbrella organization for 27 professional societies. Additionally, the TAG Education Collaborative (TAG's charitable arm) focuses on helping science, technology, engineering and math (STEM) education initiatives thrive.
For more information visit the TAG website at http://www.tagonline.org or TAG's community website at http://www.hubga.com. To learn about the TAG-Ed Collaborative visit http://www.tagedonline.org/.
About Lucena Research
Lucena Research specializes in predictive analytics and machine learning for the financial markets. The company was founded by renowned machine learning expert Tucker Balch, Ph.D, and serial technology entrepreneur Erez Katz. Lucena's mission is to bridge the gap between data providers and investment professionals who seek to enhance their investment decisions with machine learning technology.
To learn more about Lucena, visit http://www.lucenaresearch.com or email info(at)lucenaresearch.com.
Media Contact:
Katherine Riddick/ Marketing & Communications Manager
katherine(at)lucenaresearch.com
Main:(404) 907-1702
Cell: (404) 702-1850