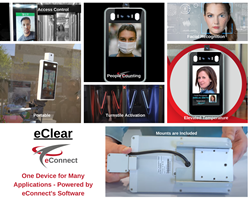 The power of eClear is in its ability to do a quick temperature reading using thermal imaging. In an instant, it also checks for a mask, and then uses face match to enable access.Henry Valentino, CEO, eConnect
LAS VEGAS (PRWEB) May 19, 2020
eClear is a thermal imaging device that can read temperatures in a contact-free, self-serve manner quickly and effortlessly. Lucky Star Casinos has installed these devices in all of their properties.
When COVID-19 hit the United States, most casinos closed to help with social distancing and to keep people safe. As the country begins to reopen, operators are doing everything they can to make their employees and patrons feel safe. Checking temperatures has become more and more important as it may help mitigate the spread of the virus by detecting people who have elevated temperatures.
"We are focused on making our properties clean and safe for our patrons and team members. We selected the eClear Thermal Camera because eConnect has been working in gaming for over a decade and they have a great reputation across the industry. We are excited to have them as our partner in this reopening effort." Said Charlie Welbourne, Lucky Star's CEO.
Lucky Star's reopening can be seen here on News 9 Oklahoma.
With this solution, eConnect continues to lead the hospitality industry by leveraging its facial recognition offering to help further facilitate touchless authentication. eClear can be placed at guest or employee entrances and can be permanently mounted or placed on a tripod as needed.
"It has been a very tough time for the hospitality industry," said Henry Valentino, eConnect's CEO. "We have adopted the best practices and standards being set forth throughout businesses around the country, and we know eClear will help everyone get back to business. The power of eClear is in its ability to do a quick temperature reading using thermal imaging. In an instant, it also checks for a mask, and then uses face match to enable access."
In addition to the basics of preventing the spread of disease by automatically checking temperatures, the facial recognition component offers many benefits, such as a real-time aggregate count of all entrances and exits while simultaneously recognizing and alerting about valuable customers. The system can also alert the team about the arrival of banned customers even if they are wearing face masks.
About eConnect
eConnect™ is a cutting-edge technology company that helps improve business performance through data and video intelligence. The company seamlessly integrates digital video surveillance analytics, including facial recognition, with transactional data from point-of-sale (POS), casino systems and other data sources to quickly and directly improve profitability, efficiency and the guest experience. eConnect offers measurable ROI within months of system deployment. The software tools are world-renowned for their ability to discover previously unknown problems, thereby reducing eliminating sources of loss and correcting operational problems. For more information, visit http://www.econnectglobal.com.
About Lucky Star Casinos
Lucky Star Casinos are owned and operated by the Cheyenne and Arapaho Tribes of Oklahoma. Lucky Star Casinos has locations throughout Oklahoma in Concho (El Reno), Clinton, Canton, Watonga, and Travel Centers in Hammon and Concho. They boast a wide variety of gaming with over 2000 slots in Oklahoma, plus table games like Blackjack, Poker, Roulette, and Craps.