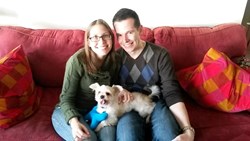 Washington, DC (PRWEB) January 28, 2014
This weekend, Lucky Dog Animal Rescue (LDAR) made its 18,000th friend on Facebook. As of Monday, January 27th, LDAR had 18.066 fans. Lucky Dog's fans come from many places, from the Washington DC metro region, other parts of the United States and even other countries. LDAR's Facebook page has been an excellent way to communicate not only the organization's needs -- but also its amazing successes.
LDAR's Facebook page is a great source of information about work the rescue is doing. Fans of LDAR see regular posts in their Facebook newsfeed about events, fundraising efforts, and dogs in need of fosters or forever homes. Facebook has been a great way for LDAR to connect with the large network of volunteers and supporters of LDAR and to communicate specific needs.
"Our facebook fans are very loyal and very involved," said Mirah Horowitz, executive director and founder of Lucky Dog Animal Rescue. "I can't think of a time where we had a need that went unmet after posting it on Facebook."
LDAR also recently started posting pictures in a series called "First Night in Foster." These are pictures usually taken right after a transport when the dogs arrive in the DC area and are pictures of the dogs' first night in their foster homes. These pictures usually show each dog playing or snuggling in a new bed, safe and happy, and have been a great way to showcase each dog's personality in a home environment.
LDAR's most popular posts show their many success stories. These posts are favorites of LDAR friends and volunteers because they show the happy endings for the dogs and the families who adopt the dogs and highlight the positive outcome of the hard work of all of the volunteers.
"People put their hearts, souls, and often their wallets into our rescue efforts," said Horowitz. "What keeps them going is the success stories. When you see a loving family with their lucky dog, whether its a day after adoption or a year after adoption, all the long nights, all the blood, sweat and tears are worth it."
To adopt a Lucky Dog or Cat, or to learn more about becoming a foster or volunteer, please visit http://www.luckydoganimalrescue.org.
About Lucky Dog Animal Rescue
Lucky Dog Animal Rescu e is non-profit animal rescue organization dedicated to saving the lives of homeless animals in high-kill shelters and educating the community on responsible pet ownership. Lucky Dog Animal Rescue relies on a network of volunteers and fosters to facilitate adoptions and provide temporary homes for the dogs and cats available for adoption. Most Lucky Dogs are rescued from high-kill shelters in Virginia, West Virginia, North and South Carolina, and Puerto Rico. Once rescued, the Lucky Dogs live in home through the Washington, D.C. metro area, including Maryland and Virginia. To learn more about Lucky Dog Animal Rescue and to view the animals awaiting their forever-homes, please visit. http://www.luckydoganimalrescue.org.