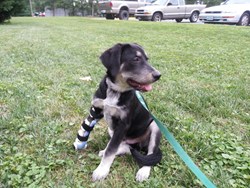 Evan is an ambassador for rescue dogs nationwide. Despite not having a right paw, he is active and happy -- just as a puppy should be. Nothing gets this boy down.
Washington, DC (PRWEB) August 15, 2013
Lucky Dog Animal Rescue is excited to announce they have reached their goal of raising $1,200 for Evan, a 4-month old border collie mix who was born without his front right paw. The $1,200 will be used to fit Evan with a prosthetic paw and pay for his veterinary bills and expenses.
A little more than months ago Lucky Dog Animal Rescue saved a very pregnant border collie mix from a high-kill shelter in Florence, SC. Within days, she gave birth to a litter of 10 puppies, nine of whom were completely healthy. One, however, was not. Evan was born with a slight physical disability – he was born without his front right paw.
Evan's mother and his nine canine siblings have each been adopted, but Evan has remained in the care of Lucky Dog so he could obtain the veterinary treatments needed. He is now ready for adoption.
Although Evan has always been able to move around on his own, he began to develop pressure sores on his front right leg, and he did not like to wear his protective bootie.
Mirah Horowitz, executive director of Lucky Dog Animal Rescue, said she and the Lucky Dog team had to decide the best course of action for Evan to ensure he could live a full life just like any other dog. After weighing the options, including amputation, they determined that a prosthetic leg was the answer.
"We wanted to give Evan the best life possible, no matter what the cost," Horowitz said. "His strength and determination are inspiring, and it's amazing to see him thriving. He enjoys life just like any other dog because he doesn't know any different."
Evan's first prosthesis cost $550, in addition to the $500 cost of his veterinary visits leading up to that. Soon, Evan will have another veterinary check that will cost another $200.
In order to cover the cost of the prosthetic leg and veterinary bills, Lucky Dog hosted an online fundraiser through Crowdwise. The organization also asked friends and Facebook fans to donate to Evan's cause. In just two weeks, they raised more than the $1,200 needed.
Horowitz said any leftover funds will go into Lucky Dog Animal Rescue's Critical Care Fund to support their dogs with extraordinary medical expenses.
Evan is now available for adoption, and Horowitz is excited to find the right home for such a special puppy. As Evan continues to grow, his adopter will be able to purchase a new prosthesis at a discounted rate from the veterinarian that Lucky Dog works with.
"I can't wait to send Evan home with his new family," Horowitz said. "Evan didn't let his disability slow him down – he met it head on and he has triumphed. I think we can all learn something from a puppy like Evan. I know I have."
To adopt Evan or another lucky dog, or to learn more about becoming a foster or volunteer, please visit http://www.luckydoganimalrescue.org/.
About Lucky Dog Animal Rescue
Lucky Dog Animal Rescue is non-profit animal rescue organization dedicated to saving the lives of homeless animals in high-kill shelters and educating the community on responsible pet ownership. Lucky Dog Animal Rescue relies on a network of volunteers and fosters to facilitate adoptions and provide temporary homes for the dogs and cats available for adoption. Most Lucky Dogs are rescued from high-kill shelters in Virginia, West Virginia, North Carolina and South Carolina. Once rescued, the Lucky Dogs live in foster homes through the Washington, D.C. metro area, including Maryland and Virginia, until they are adopted. To learn more about Lucky Dog Animal Rescue and to view the animals awaiting their forever-homes, please visit http://www.luckydoganimalrescue.org.