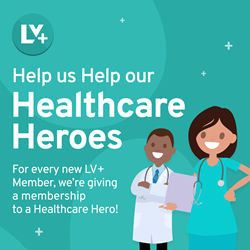 We want to help make frontline healthcare workers' lives a little less stressful by saving them and their family some time and money and ensuring they have the right support to keep them healthy so they can focus on the health of others during this challenging time.
CONSHOHOCKEN, Pa. (PRWEB) April 15, 2020
Healthcare heroes are working on the frontlines of the coronavirus pandemic to help keep everyone safe and healthy, and LuckyVitamin wants to help take care of them in return. LuckyVitamin is offering a FREE 6-Month LV+ Membership to Doctors, Nurses & Healthcare Professionals for every new standard member who joins LV+ for a limited time.
LuckyVitamin, a global e-commerce specialty retailer and manufacturer of natural health and wellness products headquartered in the suburbs of Philadelphia Pennsylvania, is on a mission to make healthy living easier and more affordable for everyone, especially frontline healthcare workers during this challenging time. Active healthcare workers or professionals, such as doctors, nurses, hospital workers and EMT's are encouraged to apply at https://www.luckyvitamin.com/healthcare-hero.
Everyone can help support our healthcare heroes. Standard memberships cost $49 per year and come with a 30-day free trial. Each new membership purchased will help by contributing more free memberships LuckyVitamin will give to healthcare workers.
LV+ Members save money and time on everything from nutritional supplements, healthy snacks and immunity boosters to hand lotion and home cleaners, plus they get extra discounts on everything, free shipping on orders over $25, access to a personal certified Wellness Consultant, free member gifts, and much more.
"We know healthcare workers are extremely busy right now and may not have the time or resources to focus on their own health while caring for others in need. We are extremely grateful for our healthcare professionals, especially during this difficult time, and want to help them stay healthy on the frontline," said Sam Wolf, LuckyVitamin's Founder and Chief Wellness Spreader. "We wanted to do our part to help alongside our customer base by offering healthcare workers a free LV+ membership for every membership sold. Together with our customers, we hope to provide some extra convenience so these essential heroes can keep their health-conscious routines on track while doing their vital work to help others get healthy too."
LuckyVitamin has found that many healthcare professionals already shop with the company because they are interested in maintaining a healthy lifestyle.
"LuckyVitamin is seeing increased demand in key categories like immune-boosting supplements, stress support, disinfecting and household cleaning, nutritious food, snacks and more which are especially relevant to healthcare workers looking to support a healthy home and ensure their body has the vital nutrients to boost their immunity and stay well," said Wolf. "We want to help make frontline healthcare workers' lives a little less stressful by saving them and their family some money, simplifying their shopping experience and ensuring they have the right nutritional support to keep them healthy and performing at their peak so they can focus on what matters most—their continued health and the health of others during this challenging time."
LV+ Member Benefits Include:

Stackable 10% Savings on Everything
Free Shipping on Orders $25+
Personal Certified Wellness Consultant
Exclusive LV+ Samples and Gifts
LV+ Community Forum and Members Only Content
Early Access to Sales and Events
About LuckyVitamin
Founded in 2005, LuckyVitamin is an industry-leading global e-commerce destination for health and wellness, natural and organic products, vitamins, nutritional supplements, sports and fitness nutrition, food, beauty, skincare, pet, and natural home. LuckyVitamin offers premium quality products and service at an exceptional value. Striving to bring good health to the masses, its mission is to be the inspirational and supportive source for products and knowledge dedicated to helping everyone on their journey towards happy wellness. For more information, visit https://www.luckyvitamin.com/.