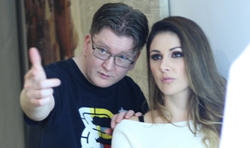 Lucy's experience in both glamour work and horror films made her perfect for the role.
London, United Kingdom (PRWEB UK) 13 May 2016
Glamorous Lucy Pinder is starring in a new psychological thriller film, based on a terrifying real life tale of sexual exploitation that will make audiences think twice about what they share online.
The Welsh Film Institute (Sefydliad Ffilm Ltd) is releasing Live Justine, which was shot between London, New York and Cardiff, and is written and directed by Samuel Victor, whose previous films have been recognised by BAFTA and the British Film Institute.
The film is about a British film producer, Brandon (Victor) who travels to New York for a meeting with an American company. Whilst in his hotel, he meets a sexy webcam model, Justine (Pinder), who persuades him to strip, and put himself into a compromising position. It soon transpires that she has hacked into both his laptop and mobile phone, and uses his bank details, social network contacts, GPS data, and footage from his webcam to extort him into performing increasingly dangerous acts. Just when he thinks he can do no more, she reveals that she has broken into his house and kidnapped his wife whilst he is out of the country.
The UK's favourite glamour model, Lucy Pinder recently moved from modelling to acting and has already appeared in several films alongside Martin Kemp, Sylvester McCoy and Freddy Krueger star Robert Englund, but this is her first starring role.
"When I was writing the script, I had Lucy firmly in mind for the part." says Victor. "Her experience in both glamour work and horror films made this the perfect match. Lucy has excelled herself and is absolutely fantastic in the role."
The film also stars Blake Curtis-Woodcock, Mark Margason, Baz Salam, David Bruce Taylor and Madalina Bellariu-Ion, and has already played to several test audiences, winning rave reviews with over 80% of voters giving a score of eight out of ten or higher on IMDb so far. The first teaser trailer for the film quickly gained over 100,000 hits and thousands of likes on YouTube, and the full film is expected to officially premiere at a major film festival in August and get a worldwide release before the end of the year.
"We've already had offers from distributors in America and Canada, and the film is currently being translated into several languages, including French, Spanish, Italian, German, and Mandarin Chinese," says Victor. "I'm delighted that the themes of the film are resonating so well with audiences. I think there are definite discussions that need to be had as to just how much information we put online, and how secure our home and mobile networks are."
"The film is all the more effective because it's based on real life events," adds Victor. "Yes, this actually happened to a prominent British film producer! They didn't quite go to the extent of kidnapping his wife – but they did target his home address, got access to all his family contacts, financial details, and the other stuff covered in the film. It certainly made me think twice about who I talk to online."
As for exactly which film producer the story is based on, Victor is staying tight lipped. "No, it didn't happen to me - I don't use webcams like that!" he jokes.
People interested in pre-ordering a copy of the film, attending a screening with the cast and crew, and even getting their name in the end credits can show support at http://www.livejustine.com