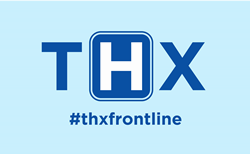 BINGHAM FARMS, Mich. (PRWEB) April 21, 2020
LUDWIG+, a full-service, woman-owned marketing agency, is launching THX, a multifaceted media campaign designed to show the community's appreciation to the front line hospital workers who are risking their lives to care for patients infected with COVID-19.
The LUDWIG+ team created a unique logo that incorporates the universal hospital "H" symbol flanked by a T and X to form "THX", a shorthand version of "thanks". They are encouraging users to share #thx and #thxfrontline on Facebook, Twitter, Instagram and LinkedIn while tagging the hospital workers they want to recognize. LUDWIG+ also wants people to print the THX graphic at home and hang it in their front windows, as well as add a frame to their Facebook profiles to show support.
"We're so grateful to the doctors, nurses and other healthcare workers who are risking their own health and safety to care for the sickest among us," said Barbara Yolles, owner and CEO of LUDWIG+. "While we can never repay these workers for their sacrifices, we can do our part to show our appreciation. Our hope is that this campaign helps lift the spirits of these selfless heroes."
As part of the campaign, LUDWIG+ has also teamed up with WDIV-TV's food4frontline to provide free meals to metro-Detroit healthcare workers, which helps to both feed those on the front lines and support local businesses that have been heavily impacted by mass closures. Supporters can also purchase THX t-shirts for $20 and sweatshirts for $35—with all proceeds going to food4frontline.
According to media reports, at least 5,400 doctors, nurses and other healthcare workers have been infected with COVID-19, and dozens have died from the disease.
For more information on the THX campaign, visit: http://www.thxfrontline.com.
About LUDWIG+
LUDWIG+ is a full-service, women-owned marketing partner that excels in mind-blowing digital technology, infectious social media, brilliant strategic planning, laser-focused media planning, efficient media buying, insightful analytics, and wicked-good creative that contains all those valuable keywords, like the ones found in this long run-on sentence, to drive SEO/SEM. LUDWIG+ is headquartered in Metro Detroit. For more information, go to LUDWIG+
###