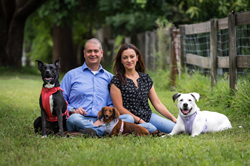 We know that animals can live longer, healthier, happier lives with the right nutrition, but it can be challenging to know what's best for your individual pet. Pet Wants is different because we offer fresh, high-quality food as well as the personal support and education... - Luis Cuellar
CORAL SPRINGS, Fla. (PRWEB) August 19, 2020
After spending 30 years in government service, including the last six working for the local animal shelter in Miami, Luis Cuellar and his wife, Ana Maria Mendez, were ready for a new adventure that still allowed them to positively impact the lives of pets. Now they are pleased to announce the launch of their new business – Pet Wants Coral Springs.
Pet Wants' specially-crafted, private-label pet food formulas are made in small batches with fresh, natural ingredients enhanced with vitamins and minerals for a complete and balanced diet in every bowl. Pet Wants Coral Springs has multiple blends of dog and cat food formulas as well as healing salve, calming balm, anti-itch spray, paw wax and more. Pet Wants Coral Springs is a mobile business that offers free, personal delivery throughout Coral Springs, Parkland and the surrounding areas.
"We know that animals can live longer, healthier, happier lives with the right nutrition, but it can be challenging to know what's best for your individual pet. Pet Wants is different because we offer fresh, high-quality food as well as the personal support and education to help you decide what's best for your family and your pets. We are here to help pets and their families live long, healthy, and happy lives together," Cuellar said.
Pet Wants has a money-back guarantee on the freshness and quality of the food and the company only sources the best salmon, chicken, lamb, brown rice and other ingredients available. There's no sugar added, no fillers and no animal by-products, and Pet Wants never uses corn, wheat, soy or dyes, which makes the food great for animals with allergies.
Mendez has had a successful pet-sitting business since 2016. Cuellar retired from local government earlier this year. For the last six years, his post was to oversee all adoptions for the local, government-run animal shelter. During that time, he was an integral leader of the team that achieved no kill status. He heard about Pet Wants when another franchise location signed on to participate in the shelter's 24-hour adoption event, which takes place every fall, and he was impressed.
"When we started looking for a business we could own and operate together that still gave us the opportunity to work with animals, I remembered Pet Wants. In addition to providing fresh, high-quality products through our mobile business, I'm personally excited about having the opportunity to ensure pet parents are well-informed and educated about the all the food choices for their pets. When I was working with the shelter, we found that education was the most important keys to saving more animals and helping people find the right pets. That education piece is just as important with Pet Wants. People don't often spend much time thinking about what they are feeding their pets – it's easy to just get something at the grocery store or the big box store – but we want to change that mindset. Nutrition is the first step toward a healthy pet," Cuellar said.
To learn more about Pet Wants Coral Springs, call 561-476-6717, email LCuellar@PetWants.com, or visit http://www.PetWants.com/CoralSprings.