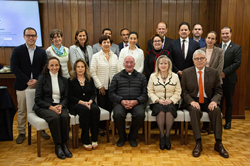 HUIXQUILUCAN, México (PRWEB) November 26, 2019
Universidad Anahuac's school of Bioethics has named the new members of its Advisory Council from 2019 through 2022. The new council has added four new advisers, who are well known due to their professional performance. These new participants will contribute to the board with their experiences and their leadership in order to add more value to the faculty´s mission, which aims at achieving a more significant service to the community.

Manuel H. Ruiz de Chávez Guerrero.
Medical surgeon graduated from the Faculty of Medicine of the National Autonomous University of Mexico (UNAM by its acronym in Spanish), Science in Social Medicine teacher at the University of London School of Hygiene and Tropical Medicine in the United Kingdom. He has a long trajectory in the health sector and has had many different positions in the government of Mexico. At present, he is the president of the National Commission of Bioethics (CONBIOETICA by its acronym in Spanish). He has bolstered the capacitation of the National Network of Bioethics. He has created and carried out masters and PhD programs in universities at a national level, by being a teacher and coordinating its courses related to the profession he excels at. He is also a member of various academies related to Medicine and other Health Sciences. Ruiz has been granted with many awards and recognition for the contributions he has made throughout his professional path. The doctor is also the author of more than 200 research, academic and informative publications.
Jennifer Hincapié Sánchez.
Associate "C" Professor in the School of Medicine of UNAM and coordinator of the Ethics and Bioethics Institutional Program, FAMCED. She is responsible for the Field of Knowledge of Bioethics of the masters and Doctorate Program in Medical, Dental and Health Sciences of the UNAM School of Medicine and a possible member of the National System of Researchers (SNI) of the National Council for Science and Technology (CONACyT) in Mexico. She majored in Philosophy from Universidad del Valle, Cali – Colombia and is currently an individual member of both the Latin American and Caribbean Federation of Bioethics Institutions (FELAIBE) and the Ibero- American Network of Health Law. In addition, she is a writer and author of various publications related to bioethics and forensic science.
Mexican businessman, founding partner of Prime Capital, a firm that offers consulting services in investment banking, and Doporto Abogados, a boutique law firm specialized in structuring and executing transactions. He is also a partner of the Guacamolito and Golden Stone companies, which are dedicated to the production of avocado and its derivatives. Both Golden Stone and Guacamolito are currently positioned as innovative Mexican companies in the agribusiness sector.
José Alberto Castillo Barajas.
A graduated surgeon from the Anahuac Mexico University and teacher in Bioethics. He is currently the coordinator of the ALPHA leadership program of the faculty of medicine from his Alma mater. He is doing his PhD in Applied Bioethics. Among his many publications, he has a numerous amount of them in the Mexican Magazine of Gastroenterology.
PhD Antonio Cabrera Cabrera, L.C., Dean of the School of Bioethics of the Anahuac Mexico University, declared "we are feeling very happy for the incorporation of these outstanding professionals to the faculty's Advisory Council. We are confident that their experience and knowledge will be advantageous to enrich our labor so we can, later on, extend it to other professional areas".
The Advisory Council is composed of other alumni from the School of Bioethics, who contribute to this cause with their contributions to the projects of the School and Interdisciplinary Research Chairs promoted by several University Schools and other international Institutions.