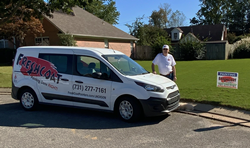 Fresh Coat Painters is different because my professional painters are employees who are trained, background checked and focused on providing a high-quality customer service experience rather than completing a job. It's all about Painting Done Right®. - Luis Rossi
JACKSON, Tenn. (PRWEB) October 13, 2020
Experienced business owner Luis Rossi is pleased to announce the launch of his new local painting company – Fresh Coat Painters of Jackson.
Fresh Coat Painters serving Jackson offers painting services including interior and exterior painting, sealing and staining; popcorn ceiling and wallpaper removal; faux painting; garage epoxy; agricultural painting; gutter cleaning and pressure washing; and drywall repair. Fresh Coat Painters has a 24/7 receptionist, online scheduling and free detailed quotes, and they only use high-quality materials. Rossi's locally-owned and operated franchise serves Jackson, Dyersburg, Milan, Humboldt, Browsville and the surrounding areas.
"I know what it's like to have trouble finding high quality workmanship. When we were having our house painted, we experienced some difficult situations. Rossi thought, 'there has to be a better way,' which is what led him to Fresh Coat Painters, Rossi said. "I am looking forward to raising the bar in the painting industry and providing our customers with the experience they've been looking for all along."
As part of the company's commitment to customer service, Fresh Coat Painters offers a 3-3-3 customer service pledge, which means calls will be answered by a live person within three rings, a quote will be delivered within three days (customer schedule permitting) and the job will be started within three weeks. Fresh Coat Painters has a national product partnership with Sherwin-Williams®, so products are guaranteed to be high quality.
After a tour in the Army, Rossi started his career as a mechanical engineer before moving into business ownership. After he sold the business last year, he found himself looking for a new opportunity. With Fresh Coat Painters, he is able to quickly grow a new company while creating jobs and bringing a new level of customer expectations to the Jackson area.
"Fresh Coat Painters is different because my professional painters are employees who are trained, background checked and focused on providing a high-quality customer service experience rather than completing a job. It's all about Painting Done Right®," Rossi said.
Fresh Coat Painters was founded in 2004 as part of Strategic Franchising Systems. Since 2015, Fresh Coat Painters has been included in the Bond's Top 100 and named to Entrepreneur Magazine's Franchise 500 list. Fresh Coat Painters is also part of the International Franchise Association, the Small Business Association's Franchise Registry, VetFran and Minority Fran. Fresh Coat Painters of Jackson is bonded and insured.
For more information about Fresh Coat Painters of Jackson, call 731-277-7161, email LRossi@FreshCoatPainters.com or visit http://www.FreshCoatPainters.com/Jackson.