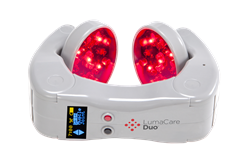 The 2 'Cold Laser' emitter heads of the LumaCare Duo allow users to treat an injury from two directions simultaneously with this Low-Level Laser Therapy system.
SALT LAKE CITY (PRWEB) October 29, 2020
LumaCare™ today announced that it has begun shipping its first product: The LumaCare Duo™.
The LumaCare Duo is a handheld, wireless, and rechargeable "Cold Laser" device that features two rotating emitter heads, one each at opposite ends of jointed arms, treatment heads that offer nearly 180 degrees of motion for delivering three different pulsing spectrums of therapeutic light to injured body parts. Each emitter head has a peak combined power output of 60 Watts from the 15 laser diodes and LEDs, specifically:

Four Infrared laser diodes at 905nm (nanometer wavelengths),
Six Infrared laser diodes at 808nm, and
Five visible Red LEDs at 670nm,
for a total of 30 laser diodes/LEDs per LumaCare Duo system.
Because the patent-pending LumaCare Duo features two articulating emitter heads affixed to the ends of two movable arms, users can manipulate the device to direct therapeutic laser light at injured tissue from two directions at the same time. Additionally, having two separate and movable treatment heads also allows LumaCare Duo users to focus more Infrared and visible Red light over a wider area if needed. Users may also choose to implement only one emitter head if that is what the treatment protocol requires.
"The Cold Laser market has seen steady growth for over five decades, but very little true innovation," said Kevin Waller, COO and co-founder of LumaCare. "So we decided to shake things up and launch a powerful, lightweight, wireless Low-Level Laser Therapy system that can be deployed virtually anywhere, while also giving users the ability the option to deliver healing and pain-reducing Cold Laser light from two emitter heads simultaneously.
"When we first unveiled the LumaCare Duo this January at the CES International trade show, we met with a fair amount of healthcare professionals and consumers who knew about (or were users of) Cold Lasers while we were in Vegas. And the fact that the LumaCare Duo emitter heads could rotate to direct Red and Infrared light from two directions simultaneously at the same pain point was simply mind-blowing to them. Hence, we believe that a lot of healthcare professionals will similarly 'go crazy' once they learn about this unique approach to Low-Level Laser Therapy treatments."
BACKGROUND ON LUMACARE, COLD LASERS, AND LUMACARE DUO DETAILS
The LumaCare Duo was born inside National Laser Company, a Salt Lake City-based industrial, commercial and medical laser company for the past 33 years, a firm that has primarily worked behind the scenes as a private label and/or original equipment manufacturer (OEM) and service provider to other laser companies.
With this 30-plus years of laser industry experience as a foundation, the team at LumaCare was quite familiar with the role of Cold Lasers / LLLT as a treatment protocol for a wide variety of chronic and traumatic injuries. So its team decided to put its industry-leading laser expertise to work at crafting an entirely new paradigm in Cold Laser systems; hence, the birth of the LumaCare Duo.
The very first inkling of the potential therapeutic benefits of LLLT came in 1967 when Endre Mester discovered that treatments of Cold Laser light regrew hair on mice. Studies in the ensuing 50-plus years have shown particular benefit from three wavelength bandwidths: from 650—675nm for surface/skin-level treatments, from 800—825nm for medium depth treatments, and from 900—925nm for deeper tissue/joint treatments.
Since Dr. Mester's finding, hundreds of thousands of Cold Laser systems have been used worldwide to improve blood flow, boost oxygenation, reduce inflammation and pain, and enhance cellular recovery for traumatic and chronic injuries.
The LumaCare Duo weighs 10.75 ounces, measures 4.75- x 5.63- x 2.75-inches (height x width x depth) when folded/closed and 3.25- x 11.50- x 2.75-in. when fully open, while the emitter heads measure 2.1- x 2.7- x 0.6-in. The range of motion of the LumaCare Duo is ~85 degrees per arm and ~130 degrees per emitter head, with a total range of motion of ~180 degrees when the device is fully open.
The LumaCare Duo draws 100-240V 50/60Hz at 0.4A while charging, with an output of 18VDC at 450mA. Continuous treatment time with the LumaCare Duo is over five (5) hours per charge.
The LumaCare Duo is registered with the U.S. Food and Drug Administration as a Class 1 laser and has a suggested retail price of $2,500.00 (US). To purchase or learn more about the LumaCare Duo, please visit https://www.lumacarelasers.com/product/lumacare-duo/.
Or for more information about LumaCare, please call 385-549-1104 or email info@LumaCareLasers.com.
Relevant Hashtags: #LumaCare, #LumaCareDuo, #medtech, #healthtech, #ColdLasers, #LLLT, #CoolLaser, #laser, #lasertech, #healthcare, #medical, #medicine, #treatment #LowLevelLaserTherapy
LumaCare, LumaCare Duo and the LumaCare and LumaCare Duo logos are trademarks of National Laser Company. Any other trademarks are property of their respective owners.
# # #
CONTACT:
David Politis, LumaCare's VP of Marketing & Sales, 385-549-1104 (work), 801-556-8184 (cell), dpolitis@LumaCareLasers.com