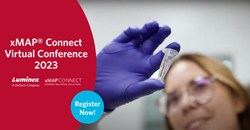 AUSTIN, Texas (PRWEB) January 17, 2023
Luminex to host their Virtual xMAP Connect Conference on January 31st, 2023 on the Labroots platform.
At Luminex's Virtual Conference, expect to learn about their xMAP Technology, and how it enables to evaluation of up to 500 analytes simultaneously in a single well, known as multiplexing. Luminex's xMAP Technology offers the versatility to perform a wide range or protein or nucleic acid based multiplex assays on a single platform.
During this virtual program, you can expect to hear from multiplex experts about how they've developed, validated, and optimized their methods, as well as learn about innovative research and clinical applications of xMAP Technology.
Join the xMAP Connect Virtual Event to

View webinars and posters—by scientists, for scientists—to gain insights from industry experts
Access a wide selection of resources, such as white papers, application notes, technical handbooks, product demo videos, and product selection guides
Join Luminex's live Q&A session to connect with application scientists and speakers from the webinars to get multiplexing tips and tricks, plus troubleshooting help
Visit Luminex Partner booths to learn more about xMAP-based multiplexing solutions
To register for the event, and view the agenda, click here.
About Luminex
At Luminex, we envision a solution in every lab around the world seeking to obtain timely and confident answers. We aim to lead with transformative solutions that uniquely accelerate reliable answers while reducing the overall cost of advancing health. Luminex offers a wide range of solutions applicable in diverse markets including clinical diagnostics, pharmaceutical drug discovery, biomedical research, genomic and proteomic research, and food safety. They accelerate reliable answers while simplifying complexity and deliver certainty with a seamless experience. For more information, visit Luminexcorp.com.
About Labroots
Labroots is the leading scientific social networking website, and primary source for scientific trending news and premier educational virtual events and webinars and more. Contributing to the advancement of science through content sharing capabilities, Labroots is a powerful advocate in amplifying global networks and communities. Founded in 2008, Labroots emphasizes digital innovation in scientific collaboration and learning. Offering more than articles and webcasts that go beyond the mundane and explore the latest discoveries in the world of science, Labroots users can stay atop their field by gaining continuing education credits from a wide range of topics through their participation in the webinars and virtual events. Now, Labroots offers more than ever with Chati, a flexibile highly scalable event platform that allows for the creation of unique, effective, and memorable virtual events.