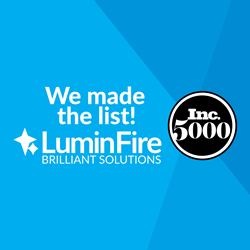 As we continue to grow and create innovative business solutions using the latest technology, we want to thank each and every one of you who have had a part in making LuminFire successful. — Tim Cimbura, CEO
MINNEAPOLIS (PRWEB) August 20, 2019
LuminFire has been named to one of the most exclusive clubs in business. The Inc. 5000 list is the most prestigious ranking of the nation's fastest-growing private companies. Companies that made the list, on average, have grown nearly sixfold since 2015. During a stretch when the economy grew at a rate of only about 12 percent, this is a result most businesses can only dream of!
LuminFire now shares a pedigree with companies like Microsoft, Dell, Intuit, Zappos, Under Armour, Vizio, GoPro, Timberland, Clif Bar, Patagonia, Oracle, Box, Grubhub, and dozens of other alumni who have gone on to become household names.
LuminFire started in a home office less than a decade ago. It's been an amazing transformation to see the company grow to a team of 20 incredible people working together in a beautiful office space that we often share with the wider community. Our great clients and employees have been instrumental in fueling this incredible growth, and we're thankful to them for helping us achieve this incredible honor!
LuminFire provides brilliant technology solutions that deliver business results through custom application development services which include building custom desktop, mobile and web apps, as well as websites. LuminFire is also a FileMaker (now Claris International) Business Alliance Platinum Partner and a member of the Apple Consultants Network (ACN).
LuminFire has developed several products including fmIgnite, fmFlare, BrilliantSync, and BrilliantGateway, all designed to make work more effective, productive and profitable for businesses of all sizes across the United States and around the world. fmFlare and BrilliantGateway were recently launched at FileMaker DevCon 2019 in Orlando, Florida where LuminFire was privileged to be a Premier Sponsor.
"LuminFire is honored to receive this recognition for the amazing work our brilliant team has delivered year after year. Our clients who have been with us on this journey share this honor with us. Thank you for trusting us with your business. As we continue to grow and create innovative business solutions using the latest technology, we want to thank each and every one of you who have had a part in making LuminFire successful." — Tim Cimbura, CEO
"The companies on this year's Inc. 5000 have followed so many different paths to success," said Inc. editor in chief James Ledbetter. "There's no single course you can follow or investment you can take that will guarantee this kind of spectacular growth. But what they have in common is persistence and seizing opportunities."