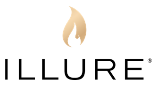 PORTOLA VALLEY, Calif. (PRWEB) December 07, 2020
Illure and Tremont Floral are pleased to announce they have entered into a strategic partnership, combining Illure's leading innovation in the LED Candle, fragrance and faux fire market with Tremont Floral's world class sales and distribution services.
Michael Mandanis of Illure said, "We are incredibly excited to be a part of the Tremont family of products that are available to specialty shops and homeowners across the US. Tremont Floral offers an amazing portfolio of products, our partnership with them will help Illure spread the message of "illuminate the moment."
Barry Todd of Tremont Floral said, "We are extremely excited to be partnering with such an innovative company as Illure. Our long history of helping our customers market the latest and greatest in home fashion accessories can be further acknowledged with the Illure partnership and their glowing reputation."
These unique Illure candles can be seen in person with Tremont Florals other items at the Atlanta Gift Market this January 12th , 2021 – January 19th , 2021. We will be conveniently located at Americas Mart, Building 1, Floor 20 – D9.
Headquartered in Silicon Valley, Illure innovative patented technologies bring superior products to the Global market in the U.S., Europe, and Asia. Our purpose at Illure is to reinvent, refresh, and revolutionize pieces that bring beauty, comfort, and a sense of the everlasting to our lives—like a candle creates. Bring your décor to life with us!
Tremont Floral Supplies is a wholesale distributor of artificial flowers and serves the floral and gift needs of its customers in 20 states. Founded in 1965, the company's clients include retail flower shops, importers and wholesale companies. It also deals in ribbons, floral foam and polyfoil. Tremont Floral is located in Tremont, Mississippi.
# # #
Additional information about the company can be found at http://www.illure.com or http://www.tremontfloral.com
Forward-Looking Statements
Statements in this release that are not strictly historical may be "forward-looking" statements, which involve risks and uncertainties. We undertake no obligation to publicly update or review any forward-looking statement, whether as a result of new information, future developments or otherwise, except as otherwise required by law.