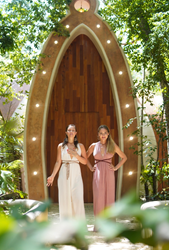 Awaken Your Inner Healer is an immersion to bring people through the trauma of 2020 and into the greatest health of their lives.
MIAMI (PRWEB) October 28, 2020
"We want to awaken people to their innate healing power," said Bianca Abbott, Nurse Practitioner and Co-Founder of LunaFast. "We've helped hundreds of clients increase their immunity with fasting, now we're providing a retreat where people can cleanse their bodies, reconnect to their spirit, and release the trauma of 2020."
As their name implies, LunaFast aligns their fasts with the new moon cycle. The Awaken Your Inner Healer Retreat will align with the winter solstice, 12/12 to 12/21. Clients start by registering online to complete a health assessment and determine if they are a good candidate. Once approved, they will join Co-Founders Bianca Abbott and Monika Arenas in Tulum.
Once there, they will be guided through a series of fasts that help them transition from fruits and vegetables, to juice, to three days of water and back into a plant-based alkaline diet. All of this is done in the jungles of Tulum and optimized with ceremonial activations, kundalini yoga, ecstatic dance, movement classes, temazcal sweat lodges, healing massages, and much more.
Starting now, people seeking to increase their immunity can cleanse in paradise and live their most vibrant lives.
Monika Arenas, Registered Dietitian and Co-Founder of LunaFast said, "One fast is life changing, but the greatest transformations come from disconnecting from everyday life and diving into deep healing immersions. At our Awaken Your Inner Healer Retreat, we'll guide you step by step to optimal health with fasting without the pain and stress that often accompanies detoxification protocols."
LunaFast's new retreat puts clients back in control of their own immunity. Abbott and Arenas add, "The question every LunaFaster will be asking is, 'Am I ready to commit to my greatest life?'"
To learn more about the new program and to sign up goto LunaFast.com/tulum
About LunaFast:
LunaFast is a ten day holistic cleansing program started by Miami healthcare professionals and entrepreneurs Bianca Abbott and Monika Arenas in 2019. They have led hundreds of people through profound healing experiences and are committed to leading the modern fasting movement. Bianca can be reached at 917-734-0686, Monika at 786-387-1219, info@lunafast.com, @thelunafast on instagram, and facebook.com/thelunafast.