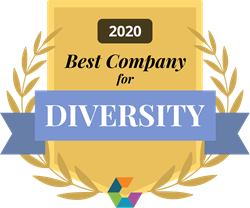 "We have students from all over the world from all walks of life, and I want our company to reflect that diversity so we can have a thriving community with a range of perspectives."
ROCKVILLE, Md. (PRWEB) December 23, 2020
Lurn, Inc., the transformational home for entrepreneurs, is proud to announce that it has been recognized by Comparably as a Best Company for Diversity for the third year in a row.
"Diversity in the workplace has never been more important," said Anik Singal, founder and CEO at Lurn. "We have students from all over the world from all walks of life, and I want our company to reflect that diversity so we can have a thriving community with a range of perspectives."
The Comparably Awards honor businesses that are helping to drive positive cultural change across companies large and small. Rankings are derived from sentiment ratings provided by employees who anonymously rate their employers on Comparably.com throughout the year. There are no fees or costs associated with participating, nor is nomination required.
Lurn employees had the following to say about their company:
"We have a diverse collective of people that bring their thoughts and ideas to the table to help drive the mission forward."
"Everyone here has been extremely welcoming. We're definitely in this together and will succeed as a team."
"Lurn was very inviting and had a warm welcome from everyone. Lurn is like a family and I'm given the chance to be part of a great family."
"I've had an extremely positive experience at Lurn. There have been challenges along the way, but we've always come out the other side as a better company. Lurn is a family oriented company and I generally feel as if my co-workers care about both professionally and personally."
The award win comes on the heels of surpassing 450,000 members in the #LurnNation platform.
About Lurn
Lurn is the transformational home for entrepreneurs. We provide a virtual and in-person training center to teach, coach and guide entrepreneurs all over the world.
Founded by Anik Singal in 2004, Lurn's approach has always been a straightforward one:
1. To empower others to create & grow passion-based businesses
2. To encourage big ideas that will change the world
3. To educate people about how to be the best entrepreneur they can be - no matter where they are on their journey
For more about Lurn, please visit http://www.lurn.com.
About Comparably
Comparably is a leading workplace culture and compensation site with a mission to make
workplaces more transparent and rewarding.
Employees can access the platform's salary comparison tool, rate their companies and CEOs and see what workplaces are really like through the lens of comprehensive and structured data based on gender, ethnicity, age, experience, department, location, education and company size.
With nearly 10 million ratings from employees across 50,000 U.S. companies since its 2016 launch, Comparably has become one of the most trusted third party sites for workplace culture and fastest growing SaaS solutions for employer branding.
For more information, go to http://www.comparably.com. For workplace culture studies and compensation data lists, log onto http://www.comparably.com/blog.