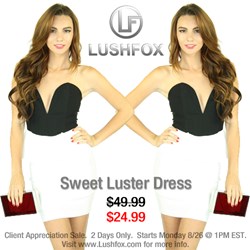 This sale will allow our clients to purchase styles that accentuate a woman's natural irresistibility, sensuality and allure, at only 1/3 the cost, compared to other retailers.
Los Angeles, CA (PRWEB) August 20, 2013
LushFox LLC, an apparel retailer specializing in stylish and sexy apparel for trendy young women, is having their Client Appreciation Sale Monday, August 26th @ 1PM EST. For 2 days, everything on the website will be at least 50% off, with some up to 75%. With prices already significantly lower than competitors, the resulting opportunity is a fashionista's dream.
Lushfox's sale will include new styles and not just clearance items. New items will be made available the day of the sale. Dresses for events, tops for concerts, skirts for dinner dates and the accessories to match are all part of the sale. Styles that are part of every autumn wardrobe will make their first appearance of the season as well.
However, there is a catch. Lushfox is a member only site so you must have an account prior to the start of the sale to participate. Registration is free, but limited. You can currently register here..
"We emphasize treating our clientele right and that's why we love having deals like this. We do this for our fellow fashionistas, our sisters who want trendy styles quickly, easily and affordably. This sale will allow them to purchase the latest styles at 1/3 the cost, compared to other retailers", said Kate, Lushfox's Creative Director. "In terms of our styles, we love accentuating a woman's natural irresistibility, sensuality and allure. Additionally, each style expresses a woman's mood, whether it be playful, sophisticated, sexy or flirtatious. "
Followers of Lushfox on Instagram, Facebook and Pinterest are eligible for promotions that are exclusive to each social network. Lushfox routinely gives away gift certificates to their clients and there have been whispers of larger prizes that will arrive this holiday season. "We shop online too so we know how great it is when a site gives back. Naturally, it's important for us to show our clients we care."
###
Lushfox LLC is based in Los Angeles, CA. Shipping is available to the USA, Canada, Australia and the UK. Free priority shipping is available for qualifiying orders. For the latest news and styles, follow Lushfox at:
Facebook - http://www.facebook.com/lushfox
Instagram - http://www.instagram.com/lushfox