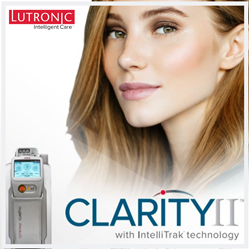 "The system's unique features are completely revolutionizing my approach to laser hair removal," states David J. Friedman, M.D.
BOSTON (PRWEB) July 16, 2019
LUTRONIC, a leading developer of energy-based medical devices, announced Tuesday that the U.S. Food and Drug Administration has granted market clearance for the Clarity II™ 755nm and 1064nm wavelength platform. On the heels of a successful launch of the Lutronic Genius® precision RF delivery system, the innovative and versatile Clarity II platform is yet another example of Lutronic's commitment to Intelligent Design for Intelligent Care™.
Lutronic's Clarity II is a high-power, dual-wavelength platform that effectively delivers the industry's widest range of parameters to help safely and efficiently treat the broadest indications with ease. The innovative design includes a single fiber for all spot sizes (2-24mm), intuitive user interface, and no need for calibration after parameter changes. The Clarity II platform can save time during a procedure by facilitating faster, more effective treatments.
Clinicians will be able to fully harness the platform's high power and versatility due to proprietary Temperature Sensing and IntelliTrak™ technologies:

IntelliTrak Technology – Ensures consistent energy delivery regardless of the speed the provider rolls the handpiece over the skin. This gives practitioners confidence that faster glide speeds will still achieve consistent and more complete coverage, which is especially important for laser hair removal: particularly in larger areas like legs, arms, back and chest.
Temperature Sensing – The innovative handpiece on the Clarity II can continuously measure skin surface temperature, giving practitioners confidence to optimize treatment parameters for the best possible outcome. This is especially important for skin toning, treating vascular conditions and other procedures.
"From my vast experience with 755/1064nm long pulse platforms, I find that the Clarity II platform provides significant advantages over other devices. The higher energy and wider range of pulse widths allow me and my delegated staff to effectively treat every indication in my practice with more speed and confidence than ever before" states David J. Friedman, M.D. "The intelligent capabilities, larger spots, shorter pulses, and faster hertz rates help us achieve satisfying patient results after fewer treatments. The system's unique features are completely revolutionizing my approach to laser hair removal."
The Clarity II is a high-power multiple-laser platform which provides a full range of applications in all skin types:

Permanent Hair Reduction (including tanned skin) and Pseudofolliculitis Barbae,
Age Spots, Sunspots, Café au lait Macules, Nevi and other benign pigmented lesions,
Wrinkle reduction, including periocular and perioral wrinkles,
Leg Veins, Rosacea, Spider Veins, Telangiectasia, Port Wine Stains and other vascular lesions,
Skin Tags, Warts, Verrucae, Keratoses and other plaques,
And more.
"Lack of confidence in a treatment device, may result in practitioner's choosing sub-optimal treatment parameters leading to poor results. For many aesthetic procedures, such as laser hair removal, several weeks may pass before such poor results are known," stated Bill Mitchell, Senior Director of Marketing at Lutronic "Now, the Lutronic Clarity II platform's patented technology provides real-time feedback while the procedure is being performed allowing clinicians the confidence to choose optimal treatment parameters for each patient to help maximize outcomes."
"Customers love our original Clarity system, so we will continue to manufacture them," said Lee Pannell, Chief Operating Officer at Lutronic. "Furthermore, to protect the investments made by our original Clarity owners, we will be offering a special 'up-trade' opportunity toward a new Clarity II platform. Sales representatives will be contacting current Clarity owners to review the details of this offer."
This new platform was discussed during various sessions at The Aesthetic Show in Las Vegas July 11-13, 2019. Clarity II and the Genius platform will also be featured at the upcoming laser dermatology congress in Seoul, Korea July 21, 2019.
For more information on Lutronic visit http://www.USA.Lutronic.com
About LUTRONIC
Effective. Innovative. Intuitive. Dependable. These four core tenants fuel Lutronic's development of intelligent laser and energy-based systems. Lutronic's robust products include proprietary features to help optimize care in aesthetic, ophthalmic, spinal and surgical procedures. Committed to this mission, Lutronic partners with key opinion leaders to advance scientific and efficacy of Lutronic's systems. To develop unrivaled systems with "smart" features, Lutronic devotes as much as four times what competitors invest in research and development, resulting in more than 535 patents and patent applications worldwide.
In addition to operations and manufacturing in the Boston area, Lutronic has a major manufacturing and research center in South Korea, offices in Germany, France, China and Japan, and a worldwide network of ever expanding direct sales teams and distributors.
©2019. LUTRONIC Group of Companies. All rights reserved. LUTRONIC, its logo, Lutronic Intelligent Care, Intelligent Design for Intelligent Care, Lutronic Genius, Clarity II, and IntelliTrak are trademarks or registered trademarks of the LUTRONIC Group of Companies. The Clarity II system and its use is covered by one or more U.S. and foreign patents or patent applications pending.