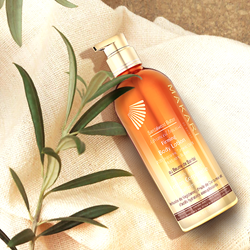 We are excited to deliver a product infused with nourishing botanical ingredients that will allow our consumers to focus on restoring their beautiful melanin skin and pamper it during these cozy months. Ezra Aini, Makari COO
NEW YORK (PRWEB) November 10, 2020
Global beauty brand Makari De Suisse is ecstatic to announce the launch of its Sandalwood Butter Body Lotion, a first-time product that addresses two key issues in customers - uneven and dull skin, stretch marks.
Makari Sandalwood Butter Ultimate Intense Firming Body Lotion is a blend of skin stimulators that repair and heal damaged skin diminishing the appearance of stretch marks. This botanically infused lotion improves skin's elasticity, diminishes stretch marks, and evens complexion. The skin is left smoother, evenly toned, and healthier looking.
The newest product's key ingredients include a rich concoction of sandalwood oil, turmeric, lemon, grapeseed, lavender and jojoba oils, and cocoa butter. They work together to moisturize, exfoliate, and tone skin; rejuvenate the skin, and reduce the appearance of stretch marks, scars and stretch marks, and signs of aging such as wrinkles.
"We are excited to deliver a product infused with nourishing botanical ingredients that will allow our consumers to focus on restoring their beautiful melanin skin and pamper it during these cozy months. We take great pride in the Sandalwood Body Butter Lotion, which addresses everyday skin concerns."
-Ezra Aini, Makari COO
Makari, which means 'beautiful' in Swahili, aims to educate consumers to recommend the best products for all skin types and prides itself on producing solutions made for melanin. Makari has been a trusted beauty brand for more than two decades with an ever-growing global distribution network of 20 retail flagship stores that span across 30 countries in North America, Africa, Asia, Europe, and Australia.
For more details, visit http://www.makari.com.
ABOUT MAKARI DE SUISSE
For over 20 years, Makari has offered collections of targeted, problem-solving products addressing the skincare needs of diverse, multi-hued skin of color from hyper-pigmentation, excess oil production, hydration to anti-aging. Its approach to skincare combines innovative and safe ingredients into effective daily regimens devoted to improving and preserving one's skin health. The result is revolutionary products that aid in reducing the appearance of dark spots, correcting the signs of aging, evening out skin tone, protecting healthy skin, and preventing future damage.