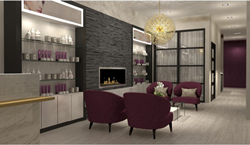 ...The seasoned Luxura team is proud to administer leading cosmetic solutions — including platelet-rich fibrin (PRF) for skin and hair — using top-level techniques that minimize downtime while maximizing aesthetic benefits.
CHICAGO (PRWEB) September 03, 2020
Physician-owned Luxura Modern Aesthetix in Chicago is now open! The seasoned aesthetic team of Luxura is passionate about providing the most modern cosmetic solutions, tailored to each patient's needs, and administering the highest level of cosmetic care to Chicagoans for noticeable, natural-looking results. As the name implies, Luxura Modern Aesthetix offers a modern approach where results, patient comfort and safety are at the center.
Luxura Modern Aesthetix offers an advanced menu of aesthetic solutions, including all-natural platelet-rich fibrin (PRF) for skin and hair revitalization. PRF is a purer, more potent form of platelet-rich plasma (PRP) and is just one example of the state-of-the-art offerings that set Luxura Modern Aesthetix apart.
Luxura Modern Aesthetix also offers:

Non-invasive body contouring solutions CoolSculpting® and CoolTone™
Thread lift skin tightening and lifting
SkinPen® microneedling
Acclaimed laser skin rejuvenation with BBL™ photofacial and Halo™
Chemical peel
Botox® and dermal fillers
Laser vein treatment
Laser hair removal
IV Hydration
The Luxura team can't wait to help you reach your aesthetic goals! To learn more, please call 773.453.7500 or request a consultation online today.
About Luxura Modern Aesthetix
Physician-owned and -directed Luxura Modern Aesthetix was created to provide the most advanced, proven aesthetic solutions and the highest level of aesthetic care to Chicagoans. Because results are everything, Luxura offers a most modern approach, providing a highly curated menu of results-driven, clinically-based treatments for top-level, natural-looking results. Modern aesthetic treatments at Luxura include: Botox® and dermal fillers (which are administered using a cannula to reduce downtime and maximize results), platelet-rich fibrin (PRF) for skin and hair revitalization, a more potent form of platelet-rich plasma (PRP), thread lift, BBL™ photofacial, Halo™ laser skin renewal, SkinPen® microneedling, chemical peel, Diamond Glow dermabrasion, laser hair removal, IV hydration, CoolSculpting®, CoolTone™ and laser vein treatment.
About the team
Dr. Brian Rosett, MD
Board-certified plastic surgeon Dr. Brian Rosett is proud to be medical director of Luxura Modern Aesthetix. A native of Chicago, Dr. Rosett has trained with multiple world-renowned plastic surgeons in Beverly Hills and across the country. A member of the American Society of Plastic Surgeons, Dr. Rosett comes to Luxura Modern Aesthetix with a proven track record and high acclaim among his patients and colleagues alike for his superb results and warm, approachable bedside manner. An expert and true innovator in both traditional and minimally-invasive procedures of the body and face, Dr. Rosett has performed thousands of successful cosmetic procedures. As the medical director for Luxura Modern Aesthetix, Dr. Rosett feels truly privileged to be part of a team that values patient comfort and personalized care above all else.
Therese Murray, Aesthetic Nurse, Practice Manager
Therese Murray has been a Registered Nurse (RN) for 26 years and is passionate about providing leading aesthetic treatments and the most flattering, natural-looking results for her patients. After working as a neurosurgery nurse for the past 10 years, Therese completed 150 hours of comprehensive aesthetic training at the National Laser Institute where she mastered laser skin treatments, injectables, Kybella®, thread lifts, PRP/microneedling and sclerotherapy.
After graduating from the Henry J. Kutsch School of Nursing in 1994, Therese worked at Northwestern Memorial Hospital in Chicago in the Inpatient Dermatology Department and Surgical Intensive Care Unit. Therese went on to win nurse of the year in cardiology as a Cath Lab RN in the Emergency Department at the Swedish Covenant Hospital in Chicago for managing the Acute Care Center database and assisting in bringing their "door-to-balloon" time down from 180 minutes to under 60, saving many lives. Therese has also worked as an RN for Dr. Julius Few at the Plastic and Reconstructive Surgery Department at the Northwestern Memorial Faculty Foundation Clinic.