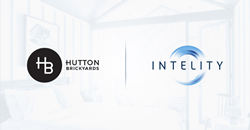 "Everyone has a different definition of what makes for an unforgettable stay, and it's essential that guests can tailor their experience to their preferences."
LOS ANGELES (PRWEB) April 08, 2021
INTELITY®, the provider of hospitality's broadest guest experience and staff management platform, has signed a deal with Hutton Brickyards to implement the full INTELITY platform at the new retreat located in Kingston, New York. Opening in May 2021, Hutton Brickyards will provide mobile, in-room, and staff capabilities that optimize operations and eliminate friction within the guest experience in order to foster genuine relaxation and deep connections to nature.
Hutton Brickyards is the culmination of a years-long restoration and reimagining of the The Hutton Brickworks Company, a family-owned brick manufacturer that operated for over 100 years as a cornerstone of the Kingston community in the Hudson Valley. Perched on the banks of the Hudson River, the hotel features 31 thoughtfully-designed guest cabins on a sprawling 73-acre campus that offers stunning river views and industrial architecture. To help guests become immersed in their surroundings and enjoy each part of their stay, Hutton Brickyards will also offer technology that puts guests in control of their stay and service—allowing them to bask in the resort's tranquility without disruption while effortlessly connecting with staff as needed.
"Everyone has a different definition of what makes for an unforgettable stay, and it's essential that guests can tailor their experience to their preferences," remarked Jenni Loughman, COO of Salt Hotels. "Some would rather relax at the spa while others are looking for adventurous experiences. Some still have safety concerns and would like contactless service while others want to be greeted by staff members at the front desk. The INTELITY platform delivers digital convenience, contactless options, and personalization at every step in the guest journey—we couldn't be more excited about how it will elevate experiences at Hutton Brickyards for years to come."
With both a mobile app and in-room tablets in place, contactless service and digital amenities will be available at every step in the guest journey. While preparing for their arrival, guests can download the property's app to get more information about the hotel, check-in from their phone, or even order food in advance of their arrival. Then, once they've arrived, they'll be able to skip the front desk and head straight to their room, activating a mobile key that gives them access to their private cabin. Once inside, an in-room tablet will greet them and offer yet another link to staff and service throughout their stay.
"Hutton Brickyards is not just preparing unforgettable accommodations, but also potentially the most ambitious slate of local activities and outdoor experiences we've ever seen from a property," said Robert Stevenson, INTELITY CEO. "With so much happening each day, we're excited that the INTELITY platform will serve as a critical connection point for guests—ensuring they're only ever a few taps away from everything Hutton Brickyards has to offer."
Meanwhile, the technology will also allow staff to stay in contact with guests wherever they are on property—utilizing in-app and SMS messaging to notify them of special events and activities available to them as well as keeping them up to date on any service they've requested. At the same time, the INTELITY platform will source real-time feedback from guests that can lead to better service recovery and a smoother stay for everyone. Finally, automation and deep business insights will save staff time and propel constant process improvements, freeing up employee time so staff members can keep their attention focused on providing memorable, standout service to guests.
For more information on the INTELITY platform or this deal, please visit http://www.intelity.com.
About INTELITY
INTELITY is the global leader in contactless guest experience technology, uniting mobile, in-room, and operational tools into one fully-integrated hospitality platform. Built for the hotel, casino, and luxury residential markets, INTELITY has been named the "Official Mobile and In-Room Technology Provider" by the distinguished Forbes Travel Guide for five consecutive years and is in use at boutique properties, casino-resorts, and global hotel brands, including Marriott, Fairmont, Hard Rock, and more. For more information, visit http://www.intelity.com.
About Hutton Brickyards and Salt Hotels
Perched upon 73 acres of rolling hills and lush meadows, with industrial structures soaring skyward on the majestic Hudson River, Hutton Brickyards enters a new chapter in 2021, reborn as a rambling, imaginative new hotel, spa, restaurant and events retreat. For more information, visit http://www.huttonbrickyards.com.
Salt Hotels is a full service hospitality company providing comprehensive services in hotel management, design & development, creative services, sales & marketing, revenue management, food & beverage development and management, and human resources. For more information, visit http://www.salthotels.com.