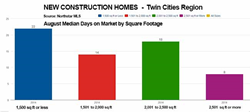 Prospective home buyers gain added benefits from new housing data insights that offer guidance when deciding whether it is better to purchase a newly constructed home or a previously owned Twin Cities home. ~ Home Destination
Minneapolis, Twin Cities Minnesota (PRWEB) September 22, 2014
Luxury homes in the Twin Cities grab top quota of new construction activity, according to Northstar MLS's new Infographics feature. New construction is booming in the Twin Cities luxury homes sector.
"Residential real estate market conditions have remained inviting to new residents, while the demand for new construction of luxury homes in the Twin Cities seems to draw the highest level of construction activity," says Jenna Thuening, owner of Home Destination. "Premier Minneapolis and St. Paul residential building contractors shape the landscape of Minneapolis real estate by anticipating and responding to costs of new construction and market demand."
Home builders across the Twin Cities reeled a bit from the sharp downward turn in the number of permits pulled. According to batconline.com, the following residential communities in the metro lead others in the number of new permits pulled. Coming inn first Minneapolis had 83 units, Maple Grove 2nd with 40 units, Blaine 3rd with 32 units, Woodbury's 26 units ranked 4th, with Lakeville coming in 5th with 21 units.
New construction of luxury homes of distinction, both traditional and contemporary are taking a commanding share of home builder activity in the Twin Cities. "The increased demand for new homes has been facilitated by continued strength in the local resale market," stated Chris Huecksteadt, Regional Director of Metrostudy's Minneapolis/St. Paul region.
In August, 2013 the Median Sales Price of newly construction home by construction type was as follows:

New Home Construction – 329,900
Previously Owned Homes – 179,900
All Construction Types – 185,525
In August, 2014 the Median Sales Price of newly construction home by construction type was as follows:
New Home Construction – 363,705
Previously Owned Homes – 94,900
All Construction Types – 201,800
The median price of newly constructed homes flexed across various price ranges. They climbed significantly in the luxury home bracket, as demand for higher priced homes takes the lead in new construction activity. According to live data available from Northstar MLS:
Homes in $128,999 or less fell from 114,900 in June to 113,877 in August.
Homes in the range of $129,000 to $188,999 was 167,900 in July to $169,900 in August.
Homes in the range of $289,00 or more was 235,200 in July to $235,000 in August.
Homes in the range of 433,500 or more in July climbed to $433,606 in August
The U.S. Census Bureau released current numbers for new home starts, including all housing types, during August plunged 14.4 percent from July. A lack of many new apartment homes and other kinds of multifamily housing being built were indicated as cause for the decline. The Builders Association of the Twin Cities (BATC) Keystone Report is compiled on local housing data, while the Bureau's is not. BATC revealed at the end of August that construction activity in the Twin Cities mirrored a similar drop in annual and month-to-month permit activity. Its tapering off was attributed to fewer permits drawn to construct new apartment dwellings, which accounted for 26 percent of all new units versus a 50 percent average for the year.
U.S. totals for August for new single-family home construction levels dipped 2.4 percent downward from July's numbers. Year-To-Year combined new construction starts were 8.0 percent above levels from August a year ago; isolating the category of single-family starts, they were 4.2 percent higher than a year-ago.
Brad Hunter of Metrostudy said that new home production has been gyrating month-to-month, but is likely to end "flat." Minneapolis home builder confidence spiked to its highest in nine years, as reported by the Builders Association of the Twin Cities. Hunter indicated that the power behind that increase comes from home buyer signals of greater confidence in the economy, personal finances, and job security.
National Association of Home Builders (NAHB) Chairman Kevin Kelly, stated in a September 17th report: "Since early summer, builders in many markets across the nation have been reporting that buyer interest and traffic have picked up, which is a positive sign that the housing market is moving in the right direction".
"Prospective home buyers gain added benefits from new housing data insights that offer guidance when deciding whether it is better to purchase a newly constructed home or a previously owned Twin Cities home," comments Thuening.
About Home Destination - Twin Cities Real Estate:
Home Destination offers a loyal and committed real estate professional service that personally handles all the details of selling or purchasing a Twin Cities home. Highly regarded by peers as a Minneapolis metro expert for over 15 years, gain a skilled representative as guide to make the best possible housing decisions. Helping all home buyer types, from individuals seeking to buying a new home to a previously occupied home, Jenna Thuening has the real estate experience and acumen buyers and sellers benefit from.
Contact:
Jenna Thuening
Web. http://www.homedestination.com
Email. jenna(at)homedestination(dot)com
Tel. 612-396-7832