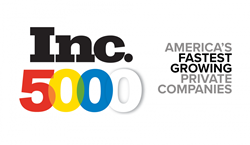 We know that our growth can be contributed directly to the level of service we provide.
NEW YORK (PRWEB) September 05, 2018
Luxury Aircraft Solutions, Inc. has recently been named to Inc. 5000's list for 2018 due to being one of the fastest-growing companies in America.
Each year, the Inc. 5000 list is released, which contains America's quickest-growing companies based on revenue growth. The five thousand businesses selected are ranked based on a three-year period according to percentage revenue growth. This is the first year that Luxury Aircraft Solutions has made the Inc. 5000 list. Luxury Aircraft Solutions ranked in the top half of the 2018 list—higher than 57 percent of companies also ranked.
"We are honored to be part of the Inc. 5000 for 2018," said Daniel Hirschhorn, Managing Director of Luxury Aircraft Solutions. "Our team has worked incredibly hard providing our clients with top-notch flight experiences and service, and this recognition is clear indication that we have been successful at doing just that. We look forward to continuing to serve our clients and provide them with the best charter flight experience out there."
Out of the five thousand businesses on the list, Luxury Aircraft Solutions placed at position 2,143. Earning this position was the result of the private jet company's 207-percent growth from 2014-2017 and $6.1 million in revenue in 2017. Their growth from 2014-2017 includes an average of +48 percent growth in annual revenue, as well as +35 percent growth in flight contracts. From just 2016-2017 alone, the air charter company saw +73 percent year over year revenue growth, as well as a +63 percent growth in flight contracts.
"Luxury Aircraft Solutions has seen substantial progress over the last few years, especially from 2016 to 2017," Hirschhorn added. "Our service-based model includes unique features that are simply unmatched by our competition, such as our exclusive Jet Card program, with the lowest price of entry in the industry starting at only five hours, and with no membership fee. We know that our growth can be contributed directly to the level of service we provide, as well as the variety of options we offer. Our clients keep returning to us, rather than competitors, and they refer their friends, family, and colleagues to us."
Inc. is a business magazine that published its first issue in 1979, which also included its very first list of rankings for the fastest-growing small businesses nationwide. This was initially known as the Inc. 100, which eventually grew to the Inc. 500 in 1982. The Inc. 5000 was the result of one more expansion in 2007, so that more companies had the chance to be recognized for their success and growth. In order to be eligible for the Inc. 5000, businesses must be privately held and based in the United States. They must also be independent; in other words, qualifying companies cannot be smaller divisions of other larger businesses, and they can't be subsidiaries. They must meet all of these qualifications as of December 31st of the last year measured. Qualifying companies must have made at least $100,000 in revenue in their first year, with revenue being at least $2 million in the most recent year.
Luxury Aircraft Solutions is a private jet charter broker based in Long Island, New York, and has been operating in the charter aircraft industry since 2011. Luxury Aircraft Solutions offers an extensive array of aircraft to clients, from small planes and helicopters, to larger private jets and commercial jets, and everything in between. They provide their services to a wide range of clientele, including celebrities, politicians, and other public figures.
To learn more about Luxury Aircraft Solutions, please contact Daniel Hirschhorn at 1(631) 676-7488 or send an email to Daniel@LuxuryAircraftSolutions.com. Visit Luxury Aircraft Solutions on the web at http://www.LuxuryAircraftSolutions.com.