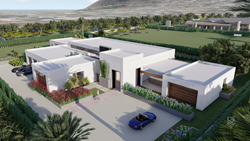 My vision is to elevate the design to an international level with exquisite selections leading the Avant Garde design industry.
PARADISE VALLEY, Ariz. (PRWEB) October 14, 2019
ICONIC LIFE Digital Luxury Lifestyle Magazine and outdoor furniture designer Brown Jordan are proud to present ICONIC HAUS 2020, a luxury design, new construction showhouse that puts 19 award-winning design talents under one roof for an 18-day show in March 2020. All proceeds will benefit The Heart Center at Phoenix Children's Hospital.
Years ago, the publisher of ICONIC LIFE, Renee Dee, was responsible for the production of six other design showhouses in the Valley, and ICONIC HAUS 2020 will be the first of a series for the digital magazine.
"The team and I are over the moon to be back in the game with ICONIC HAUS 2020," said Dee. "The amazing talent that has come together for this inaugural HAUS gives me inspiration to say this will be the best one ever. My vision is to elevate the design to an international level with exquisite selections leading the Avant Garde design industry."
The stunning Mid-Century Modern custom home is located in Cameldale Estates, a private enclave of 11 homes under development by Bedbrock Development, partnered with Ownby Design.
"Our world-class, iconic development at Cameldale Estates is the perfect venue for the ultimate win-win for everyone, showcasing everyone's hard work and talent to raise money for an incredible cause," said Rich Brock, owner of Bedbrock Development.
Principle architect CP Drewett of Drewett Works, an award-winning luxury architecture firm in Scottsdale, designed all 11 new construction homes with the inspiration of famed Mexican architect Luis Barragan. Lot four is the site of the ICONIC HAUS 2020.
"The Showhouse we did with Dee in 2004 was the third project that I designed after launching my firm, and it literally changed my life," said Drewett. "This (ICONIC HAUS) is a very important house to us, something really special, and one of the most important designs of my career."
ICONIC HAUS 2020 will kick off with a private party on Thursday, March 19 and will open to the public on Friday, March 20. More than twenty private events will be held on the property including Sunday Brunch, the Design Talks and Yoga on the Lawn. All of the proceeds from the $20 general admission public tours and private events will benefit Phoenix Children's.
"The opportunity to partner on ICONIC HAUS 2020 is exciting for us as it gives an outstanding platform to tell the story of one of the finest hospitals in the nation," said Steve Schnall, senior vice president and chief development officer at Phoenix Children's Hospital Foundation. "We are grateful to be included and thank everyone who is already working very hard to make this a successful event. The families served thank you as well."
ICONIC HAUS, marketed for sale by The Karas Group, will additionally receive significant national exposure through the national reach of ICONIC LIFE magazine's digital platform and social media channels. Sponsors of ICONIC HAUS include Brown Jordan, SubZero-Wolf, Expressions Home Gallery and Circa Lighting.
About ICONIC LIFE
ICONIC LIFE is a digital luxury lifestyle magazine lead by Publisher Renee Dee that celebrates the art of living beautifully with features on exceptional design, architecture, style, cuisine, luxury travel and living your best life at iconiclife.com. ICONIC LIFE, reaching about 80,000 unique readers monthly, showcases the vibrant people behind the products, the dreams behind the designs and the innovation behind inspiring ideas. With new content published daily, the narrative is chic, clever and curated for a sophisticated, affluent audience with an eye for all things stylish and being in the know. ICONIC LIFE's mission is to be the storytellers behind the stuff and curators of the iconic. Dee's nearly 25-year career in publishing and marketing, her inspired editorial direction, her passion for stunning imagery and her heart for giving back are the pulse of the magazine launched in early 2018. Beautiful design alongside compelling stories keep readers engaged and coming back for more, and ICONIC LIFE's social media channels add an additional wildly engaged audience for the exciting content offerings. For more information visit iconiclife.com.
About Bedbrock Developers
Bedbrock Developers, owned by Rich Brock, is the premier luxury home builder in Paradise Valley, Arcadia and Scottsdale, Arizona as well as Coronado, La Jolla and Laguna, California for more than two decades. Bedbrock originally built its sound reputation on magnificent Italian, Spanish and Santa Barbara-style homes. Bedbrock is now leading the trend for modern homes in Arizona with styles ranging from Mid-Century Modern to ultra-Contemporary. Brock launched The PV Design Center in 2011 and it quickly became a game changer in custom home building as it simplified the process of building, putting high-end home products under one roof that is essentially a custom home store. Bedbrock Developers are committed to providing a positive home building or remodeling experience that exceeds a client's expectations. Bedbrock has been extensively featured in top magazines for high quality work and exquisite custom homes. For more information visit bedbrock.com. Bedbrock partnered with Claire Ownby of Ownby Design for the foundational selections for the home prior to this exceptional Cameldale Estates home being selected as ICONIC HAUS 2020. Ownby Design is an industry-leading luxury interior design firm in Scottsdale with a mission to deliver a flawless product that is a true reflection of the client's vision, with a unique fusion of minimalism and lavishness. The team has been recognized with numerous industry and community awards for residential designs in both Arizona and the Hawaiian Islands and Ownby will be the marquis designer in the kitchen and dining space. For more information, visit ownbydesign.com.
About Drewett Works
Since opening its Scottsdale office in 2015, Drewett Works with namesake architect CP Drewett has rapidly become one of the most prolific and awarded architecture firms in the area. A boutique architectural firm with a luxury focus, DW specializes in the upper end of both residential and end-user commercial building projects. With a detail-focused team and extensive exposure to the use of high-end finishes, they are eager to spread their creative boundaries on every project. Drewett Works projects have been featured in The Robb Report, Phoenix Home & Garden, Luxe Interiors, Modern Luxury Scottsdale, Western Interiors, Trad Home, and AZ Golf Insider. Awards won include 7 Gold Nugget Awards, 4 Silver Awards (The Nationals), and six Best in American Living awards among others. The Drewett Works-Bedbrock Developers-Ownby Design project "Outside In" was named Home of the Year at the 2019 Best in American Living awards. Most recently, Kachina Estates, another Drewett Works-Bedbrock Developers project, was awarded a Gold Nugget Award of Merit for Best Residential Detached Collection of the Year. For more information visit drewettworks.com.
About The Heart Center
The Heart Center at Phoenix Children's Hospital is a top ranked Center of Excellence. No other pediatric institution in the Southwest delivers the breadth and quality of interdisciplinary cardiac care. Prestigious rankings include 14th in the nation for pediatric cardiology and heart surgery by US News and World Report, and a coveted 3-Star rating by the Society of Thoracic Surgeons (STS). Phoenix Children's delivers a spectrum of care beginning with fetal monitoring for congenital birth defects to intervention for chronic disorders and sudden injuries, transplant surgery and aftercare and transitional care into adulthood. Using a family-centered, team approach, the needs of parents, guardians and siblings are integrated into clinical plans. The Heart Center Family Advisory Council fosters support and community for families seeking care at this "gem in the desert." For more information visit heart.phoenixchildrens.org.