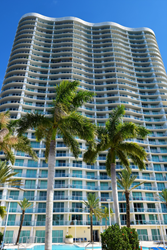 ...Oasis Tower II is now the stand out high-rise in all of Fort Myers
FORT MYERS, Fla. (PRWEB) November 19, 2018
Engel & Völkers today announced its exclusive representation of Oasis Tower II, a luxury high-rise condominium tower on Fort Myer's Caloosahatchee River. 234 units will be released to the market in increments of eight, listed exclusively with Susan Christiano, Licence partner and Broker of Engel & Völkers Fort Myers Downtown. The first round of units will be available for purchase beginning November 19, 2018.
"This building especially appeals to global buyers," said Christiano. "Designed with clean lines, water views, resort-style amenities and proximity to the Fort Myers' River District with restaurants, nightlife and events make it a perfect vacation or second home."
Christiano intends to leverage the Engel & Völkers international network and brand, which has deep 40-year roots throughout Europe, to find buyers. Though she likely won't have a difficult time doing so, as Fort Myers was named the fastest-growing city in the country, according to a study conducted by WalletHub.
"I welcome the opportunity to talk to local real estate professionals who are interested in being part of this project," said Christiano. "Engel & Völkers Fort Myers Downtown is actively recruiting qualified listing and buyers agents."
The 32-story waterfront building offers residents a multitude of amenities including cabanas, concierge, game room, grill and picnic area, gym, library, lounge, pool, sundeck and zen garden.
There are currently two staged units for clients to experience, including a condo and a townhouse. Well known, local-based interior designer Christopher Michiels lent his talents on the project by staging model units and updating the common areas. Michiels work has been featured in numerous magazines, newspapers and television programs, including HGTV's "New Spaces."
"The buildings original construction always appealed to and inspired me," said Michiels. "The opportunity to be apart of the redesign was something that I simply couldn't pass up. My vision was inspired in part by the art collection they have curated – you'll see this in the coordinating color palates I selected to pay homage. On the other hand, I wanted to reinforce the modern luxury and sophistication of the buildings brand with bold and exotic materials such as snakeskin, supple leather and vinyl. With these updates, I believe Oasis Tower II is now the stand out high-rise in all of Fort Myers."
The apartment community was completed in 2008 by The Related Group. In 2011, Lofton Island Holdings, a joint venture between Southwest Properties and Geosam Capital bulk purchased 234 units. While they are the majority owner, six of the buildings 240 units are privately owned. Until now, Lofton Island Holdings units have only been available for rent. The partners, located in Halifax, Nova Scotia, established a presence in Florida in 2008 with the purchase of several residential and retail units at The Place at Channelside in Tampa, followed by bulk purchases at Downtown Dadeland in Miami in 2009 and The Sage in St Pete's in 2010.
"Since our purchase of Oasis Tower II in 2011 we have seen a significant revitalization and growth in the River District," said Steven Darrow, VP Investments for Lofton Island Holdings LP. "We feel that the market for existing luxury condos in downtown is underserved. The Oasis is the premier property in terms of luxury condo living, with unparalleled views that will meet the strong demand from homeowners seeking move-in ready luxury homes."
###
Press contact:
Linzee Werkmeister, Director, Public Relations & Franchise Support
Email: Linzee.Werkmeister@evusa.com
Tel: (239) 348-9000
About Engel & Völkers: Engel & Völkers is one of the world's leading service companies specialised in the brokerage of premium residential property, commercial real estate, yachts and aircrafts. Based in over 800 locations in total, Engel & Völkers offers both private and institutional clients a professionally tailored range of services. Consultancy, sales and leasing form the core competences of the staff of more than 10,000 people operating under the Engel & Völkers brand. The company is currently operating in over 30 countries on four continents. Intensive training schemes in its in-house real estate Academy and the high level of quality assurance governing its systematically structured service provision are key factors that account for the company's success. For more information about Engel & Völkers, please visit engelvoelkers.com
About Engel & Völkers Florida: Engel & Völkers Florida is the Master Franchise Partner of the global luxury brand Engel & Völkers. The company represents franchise locations around Florida, including: 30A Beaches, Belleair, Boca Raton, Bonita Springs-Estero, Cape Coral, Clermont, Delray Beach, Destin, Fort Lauderdale, Jacksonville Beach, Jupiter, Madeira Beach, Marco Island, Melbourne, Melbourne Central, Miami-Coral Gables, Olde Naples, Orlando-Winter Park, Palm Beach, South Tampa, Stuart, St. Pete, Wellington, and Windermere.
Recognized for uniquely recruiting, training and equipping some of the top professionals in the real estate industry, Engel & Völkers Florida's exclusive franchise model positions its license partners at the top of the premium market to gain market share and support their bottom line.
Engel & Völkers Florida is continuing to strategically strengthen and expand its presence in premium real estate markets across the state of Florida. If you would like to know more about the Engel & Völkers brand or how to join its global network, which is known for demonstrating competence, exclusivity and passion, feel free to call our corporate office, located at 633 Tamiami Trl N, Suite 201, Naples, FL 34102 USA. Tel: +1 239-348-9000. For more information about Engel & Völkers Florida, please visit florida.evusa.com