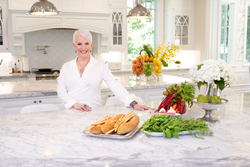 Often after that, I will be able to consult with them on what exactly it is that they may need to entertain in their style…ultimately helping them to tell their story through the timeless art of entertaining
LOS ANGELES (PRWEB) August 21, 2018
For restaurateur and businesswoman Fran Berger, entertaining others has always come naturally to her. For over 20 years, Berger became a tastemaker in her community as the original owner of The Farm of Beverly Hills®, a landmark Los Angeles restaurant.
Through her namesake lifestyle media enterprise, Home Entertaining & Sophisticated Living with Fran Berger, Berger has become one of the nation's leading authorities on all things home entertaining.
Berger uses her unique and powerful platform to educate and inspire audiences with tips and techniques in order to create outstanding experiences entertaining with ease, whether it's planning an unforgettable 'al fresco' dinner outdoors with friends and family, hosting a champagne and caviar party or knowing the right host etiquette for throwing a party.
In keeping with her overarching mission, Berger has launched her newest division devoted to Home Entertaining Design & Consulting, allowing her an expanded role as a home entertaining consultant.
By working closely with select high profile clientele, ranging from interior designers, production set design teams, sophisticated and established homeowners, and brands, Berger will personally design, curate, shop, and stock the most sacred communal spaces of clients' homes – their dining and kitchen areas -- with wares that reflect their own stylistic sensibilities and interests.
The doyenne of home entertaining, Berger works directly with each of her clients to carefully curate their homes with impeccably crafted pieces and prepare them to create bespoke moments for family, friends and colleagues with confidence.
Berger's collection of home entertaining and design consulting services, and her long-lasting relationships with the world's leading kitchen, home and lifestyle brands, allows her to help her clients show off their homes through the timeless art of entertaining with the utmost in stylistic flair and elegance.
Her clients may benefit from having her come into their homes and help reorganize and replenish their shelf and pantry space for more efficient usage, or stock their beautiful kitchen cabinets and bars with essential kitchenware and barware to prepare them for hosting sophisticated parties at home.
Berger's clients are those who are eager to entertain in their beautiful home and looking for the most refined housewares to properly host and serve guests, those with a second home or those who are simply ready to upgrade their serving ware, barware, dishware and kitchenware with new or uncommon pieces that reflect the current stage of their life.
"When I first begin working with a new client, I like to pose certain questions that help me learn what will best reflect their home entertaining wishes or stylistic sensibilities – questions such as 'How do you like to entertain?', 'What are your entertaining goals?', or even 'What parties have you attended that you wish you'd thrown?' and I also ask them to leaf through some magazines to show me what appeals to them aesthetically" she says. "Often after that, I will be able to consult with them on what exactly it is that they may need to entertain in their style and will personally shop for or with them for those items…ultimately helping them to tell their story through the timeless art of entertaining."
For more information on Fran Berger and her Home Entertaining Design & Consulting offerings, visit http://www.franberger.com.
Visual Assets and Accompanying Credits To Support News Release Included Below
(Enlarged Hi-Res Versions Available Upon Request):
Lead Image:
Opulent kitchen island and arrangements – brand partners:
Geary's (http://www.gearys.com)
Arte Italica (https://www.arteitalica.com)
Ankole Living Bamba Bowl (https://ankoleliving.com)
Match Pewter (https://www.match1995.com/)
Juliska Berry & Thread Pattern (http://www.juliska.com)
Williams Sonoma (http://www.williams-sonoma.com)
Flowers by Empty Vase (http://www.emptyvase.com)
Elegant dining table décor – brand partners:
Geary's
Christofle (http://www.christofle.com)
Baccarat (https://us.baccarat.com)
Outdoor entertaining and hospitality bar – brand partners:
Geary's
LSA
Christofle
Gien