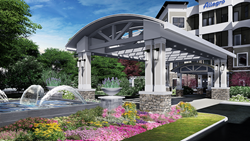 HARRINGTON PARK, N.J. (PRWEB) December 18, 2020
Mary Franck has worked in the senior living industry for more than two decades and says she has never worked in a place as amazing as the soon-to-be opened community: Allegro in Harrington Park, New Jersey.
"When you first walk in it definitely has the wow factor. The place is just breathtakingly beautiful. It is airy, bright and welcoming. There are floor-to-ceiling windows that offer a view of mature trees and the Oradell Reservoir," said Franck, who is the Lead Senior Living Advisor for the community.
Allegro in Harrington Park is owned and operated by Allegro Senior Living, a company that specializes in the development and management of luxury retirement communities for seniors who want and deserve more. Located at 200 Old Hook Road in Harrington Park, N.J., the community features 85 independent living apartments, 74 assisted living apartments and 25 apartments in the secure Ensemble memory care area of the building.
All residents will have access to some impressive amenities, which include concierge services and around the clock care. There is also an indoor/outdoor pool, sauna and steam room, fitness center and movie theater just downstairs from their apartments. In addition, there are five different dining locations where residents can enjoy chef-prepared meals using their dining dollars, which are included in the price of rent; and activities are offered throughout the day seven days a week.
"Our activities will not be your traditional senior community activities," said Franck. Plans call for a lifestyle focus on life learning activities, such as lectures by professionals, art, history and music through the Live In Harmony signature lifestyle program.
Residents can also enjoy the added benefit of Allegro's new Connected Living Program, which features industry leading technology that both connects an aging population with the community, friends and family, and makes seniors' lives a whole lot easier. The program features the Temi Robot, which is capable of providing companionship to seniors by hosting family video calls and providing video and audio resources. It can also offer online doctor visits, provide community information to residents, and conduct temperature checks.
Residents also have the added bonus of knowing that safety is top of mind at Allegro in Harrington Park. The pandemic was well underway as the building was going up, so it has been equipped with innovative bi-ionization air purification technology, which naturally cleans indoor air. It is the same air purification technology used at hospitals across the nation.
To learn more about the community, check out the website: AllegroIsComing.com. The welcome center for Allegro in Harrington Park is open seven days a week. For the safety of visitors and associate, visits are by appointment only. Text HARRINGTON to 72000 to receive exclusive event information and a virtual tour.
# # #
About Allegro Senior Living
Allegro Senior Living specializes in the development and management of luxury senior living communities. Headquartered in St. Louis, Missouri, the company currently operates 18 properties throughout the U.S., including active adult, independent living, assisted living, and memory care communities. Allegro in Harrington Park is the company's first property in New Jersey.
# # #