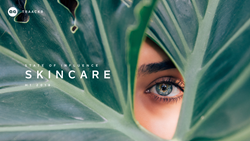 The most successful skincare companies see influencers as a long-term investment for their own brands.
SAN FRANCISCO (PRWEB) October 01, 2018
Despite its high price tag, luxury skincare brand La Mer dominated social engagement on influencer posts in the first half of 2018, according to a new report released today by Traackr, the influencer relationship management platform. The State of Influence in Skincare report provides insights into the online conversations around skincare brands in five categories as told by the top beauty influencers.
La Mer partnered with the most top influencers (1,529), translating to more than 12 million engagements - more than other brands not only in the luxury category, but also above all skincare brands.
"The notion of luxury has always been associated with exclusivity and scarcity. While some of the most forward-thinking global brands are able to manage influencer programs of a few hundred or thousand influencers, luxury brands need to optimize the balance between scaling impact and staying consistent with the exclusivity they wish to preserve," said Pierre-Loic Assayag, CEO and co-founder of Traackr. "La Mer has accomplished both scaling their program successfully and staying authentic to their brand by collaborating with influencers who love their products and have earned trust from their community."
In addition to La Mer, the report summarizes findings from the following skincare categories: Luxury, Premium, Retail, CPG and Dermatological. Traackr analyzed the share of influence in mentions and engagements, potential reach, engagement rates, number of activate influencers and influence by channel (Facebook, Twitter, Instagram and YouTube) for each brand.
Additional key insights from segments in the report include:

Premium - Self-proclaimed "abnormal" beauty brand Deciem's The Ordinary skincare line achieved the most mentions by the most activated influencers among premium brands, but Tatcha was able to garner the most engagements (27 percent) and highest potential reach across premium brands.
Retail - Origins earned both the most mentions and engagements from influencers compared to other retail skincare brands like Kiehl's, Lush and Body Shop. They also partner with the most unique number of influencers, with more than 1,400 activated in the first half of 2018.
CPG - While Dove earned 34 percent of mentions by top influencers, Olay managed to overtake Dove in engagements, with 37 percent of engagements versus Dove's 15 percent.
"During influencer marketing's infancy, brands viewed influencers as just another media channel to push their messages out," said Assayag. "Now, the most successful skincare companies see influencers as a long-term investment for their own brands. They focus on authentic relationships over straight ad buys that can impact everything from future marketing strategies to customer support to product development."
To download the full report, visit Traackr's website.
Methodology
The data in this report is based on the content produced by more than 30,000 top global skincare influencers identified using Traackr from January 1, 2018 through June 30, 2018. Brands were selected and then analyzed using Traackr's Analytics Influence Reporting tool. Data was pulled on September 19, 2018.
About Traackr
Traackr builds influencer relationship management technology that enables brands to effectively manage, measure and scale influencer strategies, while cutting through the noise on social media. The platform gives CMOs and their teams the ability to partner with influencers along the customer journey, impacting buying decisions through trustworthy and authentic conversations. Traackr powers influencer marketing programs for beloved global consumer and B2B brands, such as L'Oréal, The Coca Cola Company, Microsoft, Intel and SAP. Traackr is an international company with offices in San Francisco, Boston, New York, Paris and London.