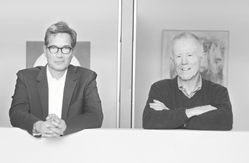 We are doubling down on being independent
LOS ANGELES (PRWEB) September 21, 2021
Deasy Penner Podley has announced its strategic partnership with the real estate industry disrupter Side. To fully leverage Side's technology, business strategy, training, and marketing, as well as brokerage infrastructural support, Deasy Penner Podley will evolve its brand, embracing the new moniker DPP.
"We are doubling down on being independent," said George Penner, CEO of DPP. "There is an advantage of continuing to have local ownership and a community-based real estate agency while incorporating Side's incredible reach, proprietary technology, and innovative approach to moving real estate forward."
DPP was recently named the Most Innovative Brokerage firm by Leading Real Estate Companies of the World® for its invention of plumBid and for its collaborative model that sets it apart from traditional brokerages. DPP's specialized approach to architectural, historic, and luxury properties, including its "home as art" ethos and curated marketing efforts, will be a continued focus for the firm.
Guy Gal, co-founder and CEO of Side, said: "We are thrilled to be a partner to a legendary company like DPP and look forward to helping them provide their already extraordinary services to more people throughout the community."
Chairman of DPP, Mike Deasy, said this of the brand name evolution: "We are taking our names off the door to elevate the names of our agents, who are the true authority in their business. We are a family and have always worked from the bottom up; everyone can have great ideas and add value. Collaboration comes from every corner, and we are ingrained within our local communities, supporting over 150 community organizations and philanthropic efforts."
"Side's breadth of resources will have impactful results for DPP and its clients," said Penner. "We want to create opportunity, and this partnership provides our team with world-class engineers and brainpower to take their business to the next level. Side knows productivity best, and we can equip our existing and future agents with this advantage."
About DPP
Founded in 2005 by Mike Deasy and George Penner, Deasy Penner Podley (DPP) is one of the largest independently owned brokerages in Southern California, with offices throughout the greater Los Angeles market and $1.5 billion+ in annual sales. With over 300 agents, DPP has represented thousands of clients and billions of dollars in real estate transactions. The firm is internationally recognized for its creative vision, dynamic business model, and unparalleled client service. For more information, please visit: http://www.dppre.com
About Side
Side propels high-performing agents, teams, and independent brokerages to the next level by empowering them with proprietary technology, business strategy, and unparalleled marketing platforms. Through its unique approach, Side enables its partners to be more productive, grow their business, and focus on serving their clients. With a current market valuation at $2.5 billion, San Francisco-based Side is revolutionizing real estate from the agent up. For more information, please visit: http://www.sideinc.com