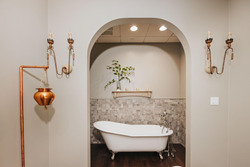 Guests may join us for Woodhouse Spa's' Signature Services. Our half-day or full-day packages rival any getaway resort or hotel in the country,
DALLAS (PRWEB) November 02, 2020
The Woodhouse Day Spa, the ultimate full-service luxury day spa, has opened at Mockingbird Station. The 5,900 square foot spa offers invigorating, rejuvenating, and results-oriented spa services and provides the utmost relaxation to its guests. The Woodhouse Day Spa was voted "Best Day Spa" by American Spa Magazine every year since 2012. The Woodhouse Day Spa in Dallas opened at Mockingbird Station on November 1, 2020. It is located at 5331 E. Mockingbird Lane. 
Prepare for an urban spa luxury experience, as you put on a plush robe and reflexology sandals, transitioning to hushed tones with a cup of warm specialty tea in the Relaxation Room. The hustle and bustle of daily life drain away as you prepare to indulge in the sensory experience of the services you'll receive.
"Guests may join us for Woodhouse Spa's' Signature Services. Our half-day or full-day packages rival any getaway resort or hotel in the country," said Terri Beckham, General Manager of Woodhouse Day Spa. "If their getaway is merely a quick but relaxing manicure or pedicure on a lunch break, our goal is for every person to leave feeling refreshed and energized."
Make time for serenity and book one of the Woodhouse Signature Services:
Woodhouse Minkyti Facial: Age-defying and award-winning. Cutting edge exfoliation with AHAs, organic seaweed for deep hydration, and unique massage technique for immediate results.
Woodhouse HydraFacial: Ultimate in resurfacing with glycolic and salicylic acids; peptides, antioxidants, and hyaluronic acids to replenish the skin.
The Woodhouse Escape: Peace, harmony and a bit of heaven with seven treatments from head to toe. Starts with dry brushing for exfoliation, then a hot stone massage. The focus then goes to the neck and shoulders to relax the upper body, then acupressure for the scalp, hands, and arms. Finishing off this magical treatment is reflexology.
Woodhouse Signature Four-Handed Massage: An award-winning indulgence. Two spa team members simultaneously perform a full-body massage, reflexology, and scalp massage for an incredible sense of calm and well-being.
Woodhouse Signature Hand Retreat: Our most raved-about, detailed manicure.
Hand to elbow exfoliation, followed by a deep massage. A wrap in warm Atlantic seaweed hydrates and increases circulation; a luxurious cream seals in the moisture. Polish application finishes off the pampering if you desire.
Woodhouse Signature Seaweed Leaf Pedicure: A "sole-ful" state of relaxation. Knee-to-foot sea salt exfoliation, warm volcanic stone massage from knee to heel, followed by an old-fashioned foot rub! A seaweed foot mask and leaf rub reduce swelling and soften feet—guest's choice of polish.
Spend A Day Services: Worth clearing the calendar services include the Five-Hour Woodhouse Experience that includes spa cuisine; Two's Company experience for two with a duet massage; and Great Expectations package designed for mothers-to-be.
Another innovative treatment featured at Woodhouse Day Spa will be their Salt Therapy Room. The remarkable health benefits of Salt Therapy begin with relaxing in a massage room while during the dry salt therapy is called Halotherapy. It is believed to reduce inflammation and help destroy bacteria in the respiratory tract, aid in better sleep, and overall relaxation.
Specially-targeted body treatments utilize a soak in a Tub Room or a Vichy Shower (rain bar). Products have tantalizing scents of lavender, cinnamon and organic ginger, and warm spice. There are scrubs to exfoliate, body wraps for cellulite and firming/toning, smoothers for stretch marks, and even a renewal ritual.
Woodhouse Day Spa massage therapists "touch with intent;" a combination of science with the art of caring and healing. Whatever your goal, there is a massage in that category: chronic pain, stretching, flexibility, relaxation, reflexology, and therapeutic stone. There is even a lymphatic flow massage with a tea ritual involved.
Natural and certified organic products are used in all treatments and even sold at Woodhouse for guests who drop by the spa and discuss their skincare goals. HydraFacials restore and firm; treat acne; fight and repair hyperpigmentation; soothe and strengthen capillaries. There are treatments with microdermabrasion, eye compression, and gentlemen's hot towel sessions.
Indulgence is not only for lengthy spa treatments. Some consider "maintenance" visits of manicures, pedicures, and waxing can still be decadent at Woodhouse Day Spa. All manicures and pedicures begin with a relaxing essential oil treatment and a warm neck and shoulder wrap.
Appointments are available online: https://dallas.woodhousespas.com/services
For information on products and services: dallas.woodhousespas.com
Phone: 972-777-6068
# # #
ABOUT THE WOODHOUSE DAY SPA
Founded in Victoria, Texas, in 2001, The Woodhouse Day Spa provides each guest with a tranquil, transformational environment that is memorable and healthful. From beginning to end, dedicated spa teams ensure that each visit enhances the guest's well-being. Every spa team member is versed in the 99 Elements of The Woodhouse Experience, ensuring guests the same high-quality signature services across more than 65 locations. The Woodhouse Day Spa has been voted best day spa by American Spa Magazine every year since 2012.  
As of the November 1st opening of the Mockingbird Station location in Dallas, there will be four Woodhouse Day Spas in the North Texas area, including The Shops at Legacy in Plano and The Shops in Highland Village in Highland Village and West Bend in Fort Worth.
For more information, please visit http://www.woodhousespas.com.