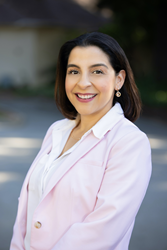 I have seen firsthand the impact of compassionate, student-centric education in a personalized school, and how life-changing it is for students and their families
MENLO PARK, Calif. (PRWEB) May 21, 2021
Lydian Academy is pleased to welcome Christiana Cassio, a skilled leader and pioneer in one-to-one education, as Principal of the newly opening Lydian Academy campus in Burlingame.
Mrs. Cassio began her career in one-to-one education more than ten years ago, when personalized education was just emerging on the educational landscape. She has served in many roles in one-to-one schools - from counseling, to admissions and outreach, and for the last six years as Head of School. With a track record of effective school leadership, she brings extensive experience and insightful perspectives to Lydian. "I have seen firsthand the impact of compassionate, student-centric education in a personalized school, and how life-changing it is for students and their families," said Mrs. Cassio.
Born and raised in San Mateo, Mrs. Cassio is also a local. She is well-known and well-respected in the local community, uniquely positioning her to collaborate with colleagues in developing a comprehensive, supportive plan for all Lydian students. When asked about bringing Lydian to the community in which she grew up, Mrs. Cassio said: "I am thrilled to be opening our new Burlingame campus and to bring this incredible option to our community."
Lydian Academy Menlo Park was founded by Rhonda Racine, a parent and long-time educator on The Peninsula. "When I retired, I had hoped that the student-focused essence of Lydian would continue. I'm so happy to see that the core values of Lydian are thriving under the next generation of leaders. Jonathan Frecceri is a 'people-first,' inspiring CEO, and I have every confidence that the heart and soul of Lydian will remain alive and well for years to come."
Founded in 2006, Lydian Academy is a personalized middle and high school focused on college preparatory education and fully accredited by the Western Association of Schools and Colleges (WASC). All courses are NCAA and UC/CSU-approved across subject areas, and offered to a wide array of student learners either in-person or online in a supportive one-on-one environment.
Lydian Academy provides students with a unique opportunity to customize their educational plans and work at their own pace while earning a competitive high school diploma that is recognized nationally and internationally as top-tier preparation for the most elite colleges and universities. Additionally, Lydian Academy offers courses of study for advanced placement students, students in need of credit remediation, neurodiverse learners with diagnosed learning differences or health challenges, gifted and twice-exceptional students, as well as athletes and performers in need of flexible scheduling while simultaneously pursuing a college preparatory education.
Lydian Academy Burlingame is now accepting registrations for the 2021-22 school year, and will open its doors on August 18, 2021. For more information, call (650) 321-0550 or visit https://lydianacademy.com/