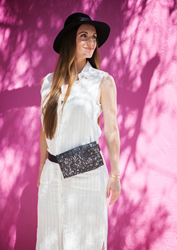 The Lylo Bag is a gorgeous, high-end convertible bag designed for the mindful woman on the move.
PARK CITY, Utah (PRWEB) October 17, 2018
Lylo Pack, the World's First Convertible Bag that provides a shield again cell phone radiation that can also be adapted to be worn as a hip pack, crossbody bag, or clutch has raised more than $12,500 to break its campaign goal on Kickstarter.
With its name derived from the phrase "light and love," Lylo Pack Creator Hollye Shepherd has drawn her inspiration from wanting to protect women from their cell phone emissions. She was inspired to create the bag when she was pregnant and working as a property manager and required to carry her phone with her at all times.
"I started reading articles and studies on cell phone radiation, which made me aware of the issues," Shepherd said. "When I started looking for bags, I couldn't find any attractive options on the market – and found most of the anti-radiation products on the market are made for men."
Shepherd interviewed over 110 women to see what the perfect bag would look like in designing the Lylo Pack.
"The Lylo Bag is a gorgeous, high-end convertible bag designed for the mindful woman on the move," she said. "Most of the women I interviewed wanted an essentials bag that wasn't too big and cumbersome. Something that could hold just the essentials but not weigh them down."
Plus, there's the radiation protection.
"We carry our phones with us everywhere, so Lylo Bag helps you stay connected with your bits protected," Shepherd says with a smile. "However, in all seriousness, we are being warned not to wear our cellphone on our body and it's time to take notice."
Lylo Pack is designed with loops to be worn as a hip pack, clutch or as a crossbody bag. The hip pack option is for women who want to be hands free with their essentials close at hand. It also comes with a crossbody strap for those days when the outfit requires something different.
Shepherd notes that "the details make the difference," with the Lylo Pack designed using the highest-grade materials such as vegan cork, long lasting leather, and waxed canvas. The radiation protective liner has also been tested and retested to assure the highest protection possible.
Features include:
•Two easy to access pockets to safely store essential items and have them ready at a moment's notice when that perfect photo or important phone call arises. Makes it perfect for dog walking, travel, moms on the move, or concerts.
•A small elastic loop to carry a lip-gloss or pen for those days when the woman doesn't have the time to dig through a bag. Perfect for a night out when used as a clutch.
•The easy-to-clean exterior waxed canvas which makes the bag water resistant in the event of inclement weather or a child's accidental spill.
•A clip on the inside allows you to attach keys to the bag to keep it pickpocket safe when dancing at an event or riding on the busy transit train
"It's also designed to be slim, this isn't your grandma's fanny pack," Shepherd added. "It's the perfect combination of safe and stylish."
Shepherd said she dedicated two years to prototyping, refinement and testing to create "one of the most versatile bags on the market."
"This bag is created for the conscious lady on the go who wants to be free of baggage," she said. "And as for myself, with three small children, I understand that there are more important things to be carrying than a heavy bag."
For more information, and to purchase the Lylo Pack while it's still available at an early-bird discount during crowdfunding, visit The Lylo Pack campaign page on Kickstarter.
About Lylo Pack
The company's mission is to design mindful accessories for women who want to pack light and move quickly – with products created for wander lusters, concert goers, or women on the go. For more information, visit lylodesign.com.