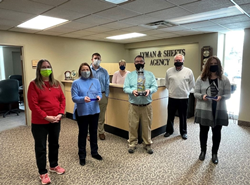 LANSING, Mich. (PRWEB) April 12, 2021
Lyman & Sheets Agency has been named Michigan's 2020 Diamond Achiever by Frankenmuth Insurance. The annual award is presented to the highest performing agency based on set criteria including length of appointment, profitability, growth, and policy retention. Each year, the top Frankenmuth agencies receive the "Diamond Achiever" award in recognition of their outstanding accomplishment.
"We truly value our partnership with Lyman & Sheets Agency and are pleased to present their management team and staff with our Diamond Achiever award," said Frankenmuth Insurance President and COO Fred Edmond. "This recognition exemplifies their commitment to providing quality, professional insurance products and services to our mutual clients."
The results achieved by the team at Lyman & Sheets Agency helped the agency become one of the most successful among Frankenmuth Insurance's more than 700 independent agencies.
"To be selected on two separate occasions as the recipient of the Diamond Achiever Award from Frankenmuth Insurance in 2017 and 2020 is a tremendous honor. As an agency, we are always looking to partner with insurance carriers who provide value to our clients," said Mike Sheets, Agency Principal, Lyman & Sheets Agency. "It would not have been possible without the teamwork and support of the many professionals with whom we work with at Frankenmuth Insurance. We are proud to represent Frankenmuth Insurance due to their exceptional coverage and superior claims-handling service offered to our clients."
Lyman & Sheets Agency has been licensed with Frankenmuth Insurance since 1967 and is recognized as one of the carrier's Preferred Plus independent insurance agency partners.
About Frankenmuth Insurance
Insurance exists to provide peace of mind, and Frankenmuth Insurance has been protecting individuals, families and businesses for more than 150 years. We truly care about the people we serve and strive to be your insurer of choice. We partner exclusively with nearly 700 independent agents to customize business, home, auto, and life insurance policies and surety bonds. Headquartered in Frankenmuth, Michigan, and doing business in 15 states, Frankenmuth Insurance is financially sound, with $1.8 billion in assets. The company has an A.M. Best rating of "A" (Excellent). For more information visit fmins.com.