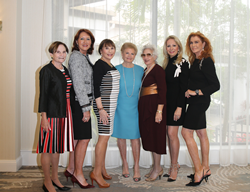 "For more than a decade, the Annual Luncheon has been a delightful and impactful event to look forward to as it continues to meaningfully support our mission of advancing progress in lymphoma research and patient education," said Meghan Gutierrez, LRF Chief Executive Officer.
BOCA RATON, Fla. (PRWEB) February 19, 2019
The Lymphoma Research Foundation (LRF) – the nation's largest non-profit organization devoted exclusively to funding innovative lymphoma research and serving the lymphoma community through a comprehensive series of education programs, outreach initiatives and patient services – hosted its Annual Luncheon at St. Andrews Country Club in Boca Raton on February 4, 2019. More than 250 members of South Florida's philanthropic community attended the bespoke fashion event that served up special Spring 2019 looks from various brands, in support of LRF and its mission of eradicating lymphoma and serving all those touched by the disease.
As in years' past, Lymphoma Research Foundation partnered with Neiman Marcus Boca Raton for a presentation of Spring 2019 trends from top fashion and accessories designers and a pop up jewelry boutique from designer Anny Stern. The Luncheon's keynote address was delivered by LRF Scientific Advisory Board member Andrew Zelenetz, MD, PhD, of Memorial Sloan Kettering Cancer Center, who provided updates on lymphoma research and treatments to the dedicated group. Zelenetz will serve as the Foundation's Chair of its prestigious Scientific Advisory Board July 1.
"It is my honor to serve on the Annual Boca Raton Luncheon committee and to contribute to the success of this key fundraising event for the Lymphoma Research Foundation," said Gladys Cook, event co-chair. "As someone whose family has been impacted by lymphoma, I know firsthand the importance of the incredible work LRF does to improve the lives of and future for lymphoma patients and caregivers, and I am humbled each year to play my part in contributing to this important mission."
Since 2007, the Annual Luncheon has raised more than $1.6 million on behalf of the Lymphoma Research Foundation, including the $155,000 raised with this event. Judy Bronsteen, Gladys Cook, Toby Cooperman, Elisabeth Dalfen, Joan Hauser, Gloria Klein, Ellen Liebman and Mitzi Oreman served as co-chairs of this year's event. Elaine and Norton Sarnoff, will served as this year's Double Platinum Sponsor.
"For more than a decade, the Annual Luncheon has been a delightful and impactful event to look forward to as it continues to meaningfully support our mission of advancing progress in lymphoma research and patient education," said Meghan Gutierrez, LRF Chief Executive Officer. "We thank the Luncheon committee members who have continuously made this event such a success year over year, and value them as a partner in our journey as an organization."