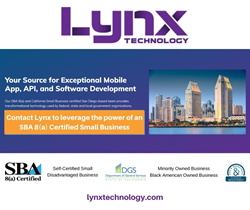 SAN DIEGO (PRWEB) April 28, 2021
Lynx Technology, an IoT smart home, media server solution, and app development company, today announced the official launch of its services aimed to help local, state, regional and federal government agencies and contractors with mobile application, API, and software development.
"Lynx was founded with the goal to deliver transformational technology to a number of industries," said John Driver, CEO of Lynx Technology. "By leveraging the knowledge we acquired successfully working with global technology manufacturers and service providers over the last two decades, we are confident that government agencies in need of software development and mobile applications will find Lynx to be an excellent partner with a unique perspective and innovative solutions."
Based in San Diego, Lynx Technology is a SBA 8(a) Certified firm. In addition, Lynx is certified as a Small Business (SB) by the CA State Department of General Services, (DGS), a Caltrans Certified Disadvantaged Business Enterprise (DBE), a Minority Owned Business, and Black American Owned Business. (DUNS: 079831093 and CAGE: 7VFR1).
Lynx Technology provides the highest quality, most professional transformational technology with services like Mobile Development; API Development/Integration; Web & Server Development; Embedded Software; Development; and Technology Support, and is a valuable resource to complement or supplement IT prime contractors or direct to government agencies.
Prime contractors and government agencies, especially California-based, that are in need of 8(a) certification and technology services are encouraged to download the Lynx Technology Government Capabilities Statement or contact Lynx at https://www.lynxtechnology.com/government for more information.
ABOUT LYNX TECHNOLOGY
Lynx Technology provides transformational technology including innovative IoT smart home and media server streaming, storage, and management for consumer electronics companies and service providers. As a SBA 8(a) and California Small Business certified San Diego-based company, Lynx also offers professional services for mobile app, API, and software development for government agencies and their prime contractors. To learn more, please visit http://www.lynxtechnology.com.