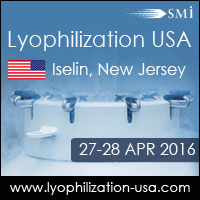 "I'm looking forward to learning about new developments in formulation development for freeze dried products" - Baxter Healthcare
London, England (PRWEB UK) 21 March 2016
SMi are delighted to have Lisa Hardwick, Research Scientist from Baxter Healthcare, present a keynote address next month at Lyophilization USA when it returns to Iselin, New Jersey on 27th and 28th April for its 2nd annual show.
With a focus on residual water content, Lisa will be giving strategic guidance on optimizing drying processes and maintaining stability through analytical methods, helping attendees to customize their own freeze drying cycles.
In the run up to her presentation, SMi Group spoke to Lisa about current challenges and future developments within the pharmaceutical freeze drying industry.
Lisa Hardwick said:
"The biggest challenge currently in lyophilization is maximizing efficiency by minimizing the length of the cycle. Controlled nucleation techniques during the freezing of the product show promise in reducing the resistance to mass flow of water vapour through the drying cake. Also, the notion that primary drying must be performed at conditions conservative enough to keep the formulation at or below Tg' is being challenged."
When asked about her upcoming talk she commented:
"When lyophilizing a large-molecule biopharmaceutical product, drier isn't always better. I plan to talk about ways to customize and analyze the secondary drying process…I'm looking forward to learning about new developments in formulation development for freeze dried products"
The full interview with Baxter Healthcare is available to read in the event download centre.
Part of SMi's global series of Lyophilisation conferences in 2016, the show in New Jersey will focus on driving lyo-productivity through practical QbD and advanced technologies and will also feature speakers from Pfizer, Novo Nordisk, Genzyme Corp, Allergan, Genentech and J&J.
The full line-up and detailed conference agenda is available to download online at http://www.lyophilization-usa.com.
For those wishing to register, there is currently a $200 saving available for bookings made by March 31st.
Confirmed attendees include: Abbott, AbbVie, Aurobindo Pharma USA, Cerulean Pharma, Endo Pharmaceuticals, FDAPharma Consulting, Fresenius Kabi Austria GmbH, ImmuCell Corporation, Jamjoom Pharma, Janssen, LifeCell Corporation, Lyophilization Technology, Momenta Pharmaceuticals, PAREXEL, Patheon, Steritech Solutions, University Of Connecticut, W.L. Gore & Assoc + more,
The European event will take place in Central London this July. Details on Lyophilisation Europe are available at http://www.lyophilisation-europe.com.
2nd Annual Conference: Lyophilization USA
Renaissance Woodbridge Hotel, Iselin, NJ, USA
Conference: April 27th & 28th 2016
Interactive Workshops: April 29th 2016
http://www.lyophilization-usa.com
Sponsored by: Emergent Biosolutions, Kamat Pharmatech LLC, Millrock Technology, One2One and SP Scientific.
---end---
Notes to Editor
About SMi Group:
Established since 1993, the SMi Group is a global event-production company that specializes in Business-to-Business Conferences, Workshops, Masterclasses and online Communities. We create and deliver events in the Defence, Security, Energy, Utilities, Finance and Pharmaceutical industries. We pride ourselves on having access to the world's most forward thinking opinion leaders and visionaries, allowing us to bring our communities together to Learn, Engage, Share and Network. More information can be found at http://www.smi-online.co.uk
About Lisa Hardwick:
Lisa M. Hardwick is a graduate of Indiana University and has worked at Baxter BioPharma Solutions for 21 years. Her background in the pharmaceutical industry includes experience in QC laboratory, quality assurance, regulatory affairs, and currently as a development scientist. Her specific focus is supporting the Baxter Center of Lyophilization Excellence where she has been involved with client, clinical, and commercial freeze-dried formulations and processes. She has co-authored several publications in lyophilization science and has been an invited speaker at several technical conferences.