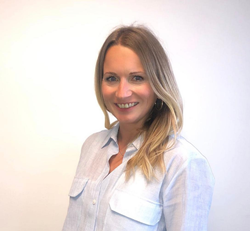 "We are delighted to welcome Nina to M3 and know that she will bring energy and drive to the role," says Anton Richter, CEO, M3 Global Research.
FORT WASHINGTON, Pa. (PRWEB) March 04, 2020
Von Mouillard Brings Nine Years of Healthcare Market Research Experience to M3
M3 Global Research, the leading healthcare market research company, has announced that Nina von Mouillard has joined the firm's EU division as business development director, with a remit focusing on the growth and expansion of M3's qualitative market research services.
This appointment reinforces M3's 2020 commitment to invest heavily in its qualitative research solutions, and von Mouillard is seen as vital in broadening M3's market presence, given her stellar reputation and extensive industry experience. Her commitment to high quality deliverables and client satisfaction matches M3's aspirations to ensure excellent customer relations at every touchpoint.
"We are delighted to welcome Nina to M3 and know that she will bring energy and drive to the role," says Anton Richter, CEO, M3 Global Research. "Her passion for her clients, combined with our growth ambitions and investment in qualitative research innovations make for a very exciting Q2 and beyond."
"We're confident that Nina's focus on our qualitative solutions will consolidate our market position," says Tom Pugh, M3 Global Research EVP, "but she will also serve as a great mentor and educator for her junior business development colleagues, strengthening the department as a whole."
Von Mouillard joins M3 Global Research from The Research House, where she served as Director of Client Solutions. She has previously held positions at Schlesinger Group Companies Schmiedl Marktforschung GmbH, in Berlin and Consumed Research in Paris. She is fluent in German, English, French, and Spanish.
"I am thrilled to join M3, a leading MR company that has a reputation for excellent client service and innovation," adds von Mouillard. "I wanted a new challenge in my career and given my professional focus on strategic business development, I'm excited to work with our clients to deliver best-in-class qualitative solutions."
Nina's first day with M3 Global Research was the 2nd of March. She reports directly to Nina Engelbrekt, SVP, Client Services at M3 Global Research.
ABOUT M3 GROUP
The M3 Group operates in the US, Asia, and Europe with over 4 million physician members globally via its physician websites which include mdlinx.com, m3.com, research.m3.com, Doctors.net.uk, medigate.net, and medlive.cn. M3 Inc. is a publicly traded company on the Tokyo Stock Exchange (jp:2413) with subsidiaries in major markets including the US, UK, Japan, South Korea, and China. The M3 Group provides services to healthcare and the life science industry. In addition to market research, these services include medical education, ethical drug promotion, clinical development, job recruitment, and clinic appointment services. M3 has offices in Japan, UK, France, Germany, Brazil, Sweden, China, India, and South Korea, as well as the US.
CONTACT
Press contact Sue Krause, Sr. Marketing Director at +1 267 805 3359 or email at marketing@usa.m3.com or visit http://www.M3GlobalResearch.com