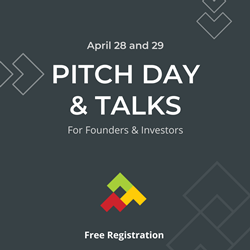 Meet, Learn and Build Meaningful Relationships with emerging founders and outstanding investors.
LOS ANGELES (PRWEB) April 19, 2021
Startup entrepreneurs continue to be one of the deep wellsprings for technological breakthroughs and robust economic growth.
M Accelerator, an innovative Los Angeles-based program that develops and boosts entrepreneurship, will be holding its two-day Pitch Day and Talks event for startup founders and investors April 28th-29th.
The event, focused largely on startup founders, will provide crucial elements of the kind of services that M Accelerator offers all the time: interactive, hands-on training in world-class entrepreneurship by top business experts.
Event attendees will gain valuable intelligence on new trends in the marketplace and in technology, while also offering guidance in discovering new opportunities to grow their firms and to network, to support business growth, with the right people: M Accelerator's growing, diverse international community.
Pitch Day and Talks Roundtables and Presentations
M Accelerator's Pitch Day and Talks event will feature 10 startups in the following sectors: B2B platforms, social networking apps and technology, sustainable packaging and textiles, platforms for virtual events, sales and traceability, legal technology, VR, and therapy support solutions.
The event's roundtables with, and presentations from, investors, founders, and experts will address six topics pivotal to successful entrepreneurship and startup growth, as follows:

Managing Data Structures for Startup Metrics
B2B platforms
Strategies for Generating Traction
Sustainability & Innovation
Social Networking Tech
NFT: Is it an opportunity for Founders and Investors?
https://maccelerator.la/pitch-day/
M Accelerator's Rapid Growth; Building Blocks for Successful Entrepreneurship
M Accelerator's growth and impact have been impressive. Since its inception in 2018, it has met with 1,500 entrepreneurs and worked with 250 founders from 20 different countries.
Just in the second half of last year, it received 2,000 applications to participate in the program.
"M Accelerator's overarching mission is to provide training for startup founders and budding entrepreneurs from the very same people who are creating startup programs in 12 countries – on the building blocks for successful entrepreneurship," said M Accelerator's Executive Director and founder Alessandro Marianantoni. "After helping startups raise $16M, from this year with M Accelerator Venture I, we can further foster exceptional entrepreneurialism – to help startup founders gain traction and stand out from the crowd in their respective sectors through market leadership and innovation."
About M. Accelerator
M Accelerator is an innovative program in Los Angeles that develops and boosts entrepreneurship. We offer a highly effective environment with interactive, hands-on learning by business experts and coaches. We work with students, early-stage and later-stage startup founders online and at our workspace in L.A., the third largest and fastest growing tech ecosystem in the US.
https://maccelerator.la